The four seasons in a year are Spring, Summer, Autumn and Winter. In Chinese, we say "春夏秋冬", that means,  for Chinese people, Spring 春天 is the first season, indicating the start of a year and Winter 冬天 is the last season of a year.
WHAT ARE THE 4 SEASONS IN CHINESE
Season in Chinese is  季节
As we mentioned before, "春夏秋冬" summarizes the 4 seasons. Chinese people sometimes use this phrase to express the period of one whole year. In details, the four seasons are:
春天 spring

夏天 summer

秋天 autumn

冬天 winter
TYPICAL WEATHER FOR EACH SEASON
We know that each season has its own weather: it rains a lot in Spring; it is hot in summer, it is dry and cool in autumn and it is cold in winter. How can we describe the weather of the 4 seasons in Chinese?
春天: 多雨

夏天:炎热

秋天:干燥凉爽

冬天:寒冷
COMMON CLOTHES IN EACH SEASON
Based on the weather condition, people wear different clothes. Here are some examples.
春天 In Spring
雨衣 raincoat

雨靴 rain boots

风衣 wind coat
夏天 In Summer
凉鞋 sandals

拖鞋 slippers

短袖T恤 short-sleeve T-shirt

短裤 shorts

游泳衣 swimming suit

裙子 skirt
秋天 In Autumn
外套 jacket
冬天 In Winter
大衣 coat

毛衣 sweater

靴子 boots

手套 gloves

帽子 hat
*The flashcards featured in this video, word wall and this video is available in our
Member Area
.
WHAT CHILDREN ENJOY DOING IN EACH SEASON
In each season children love playing different activities outdoor with friends. Here are some common ones.
春天:In Spring
骑自行车  to ride a bike

种花  to plant flowers

放风筝 to fly a kite
夏天:In Summer
游泳 to swim

玩沙 to play with sand
秋天:In Autumn
踢球 to play soccer

打篮球 to play basketball
冬天: In Winter
滑雪 to ski

溜冰 to ice skate

堆雪人 to make a snowman
In the end, let's bring a craft idea into the learning and make it more fun!
If you like this post, PIN IT!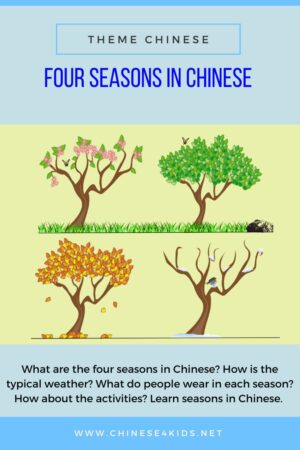 You can purchase Seasonal Clothes Theme Chinese Learning Pack at our eBook Store:
You may also be interested in:
You May Also Be Interested: