Chinese numbers are very straightforward. Basically numbers from 1-99 are composed of 10 Chinese characters: 一,二,三,四,五,六,七,八,九,十.  Counting in Chinese is an important skill.  And writing the numbers in Chinese following the right stroke order is essential for Chinese learning.
What is in the Workbook?
This workbook is designed to help children learn how to count numbers in Chinese and how to write the basic numbers in Chinese. It has the following worksheets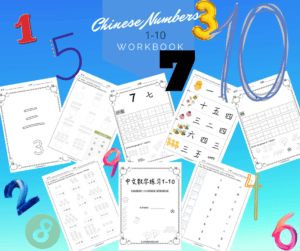 Chinese number 1-10 character writing worksheets that allow the students to copy and write the Chinee numbers 1-10 following the right stroke order.
Worksheets with different activities help kids establish the connection between Chinese characters and the number of objects. For example, circling the correct numbers after counting the objects; drawing objects based on the number; matching activities, etc.
The colorful objects and Chinese characters slip for kids to practice counting in Chinese and then identify the correct numbers in Chinese.
Kids also have a chance to practice tracing and coloring the Chinese characters and numbers.
Is the Workbook Right for You?
Numbers 1-10 are among the most basic and important Chinese characters. It is essential to know how to count them in Chinese, recognize the numbers in Chinese effortlessly,  and write them following the right stroke order.
This workbook is right if you
want to help your child to learn the numbers in Chinese right
would like your child to have fun while practicing counting and writing the number characters
prefer to start as soon as possible –  download the workbook and start to use it straight away TODAY