As winter fades away, the arrival of spring brings with it a burst of new life. The once-dormant landscape slowly comes to life, with the grass turning green and the trees budding with new leaves. The air is filled with the sweet aroma of blooming flowers, and the sound of birds chirping fills the sky. Small animals scurry about, enjoying the warm sunshine and fresh foliage. It's a season of renewal and rejuvenation, and a welcome change from the cold and dreary winter months.
In this beautiful season,  what Chinese can a child learn and how to make the learning fun and engaging?
What Chinese to Learn in Springtime?
In springtime, it can be a great idea to learn Chinese words and phrases related to the season. For example, you can learn the Chinese words for "spring" (春天, chūn tiān), "flower" (花, huā), "grass" (草, cǎo), "rain" (雨, yǔ), and "sun" (太阳, tàiyáng). You can also learn seasonal activities and celebrations, such as the Qingming Festival (清明节, qīng míng jié) and the Dragon Boat Festival (端午节, duān wǔ jié). By learning these words and phrases, you can better appreciate the beauty and culture of China during this vibrant and exciting season.
General Springtime Chinese Vocabulary
Equip the kids with common Springtime words such as sun, flower, grass, bird, chick etc first. Kids associate these words in Chinese with the images/objects they see, which make the Chinese words more meaningful. You can display the words on the wall at home or in the classroom so that children can see them easily.
For example, the word wall as below is a perfect word wall for your display.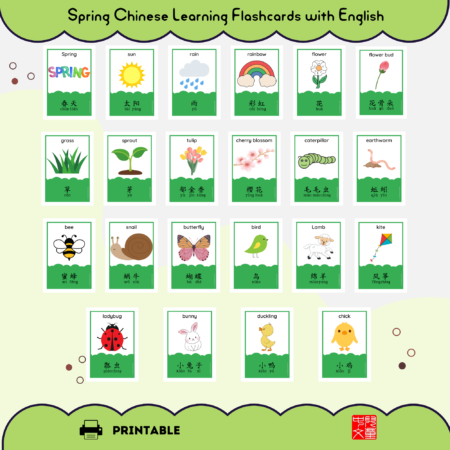 *Source: Spring Montessori 3-Part Chinese Learning Flashcards
or Farm animals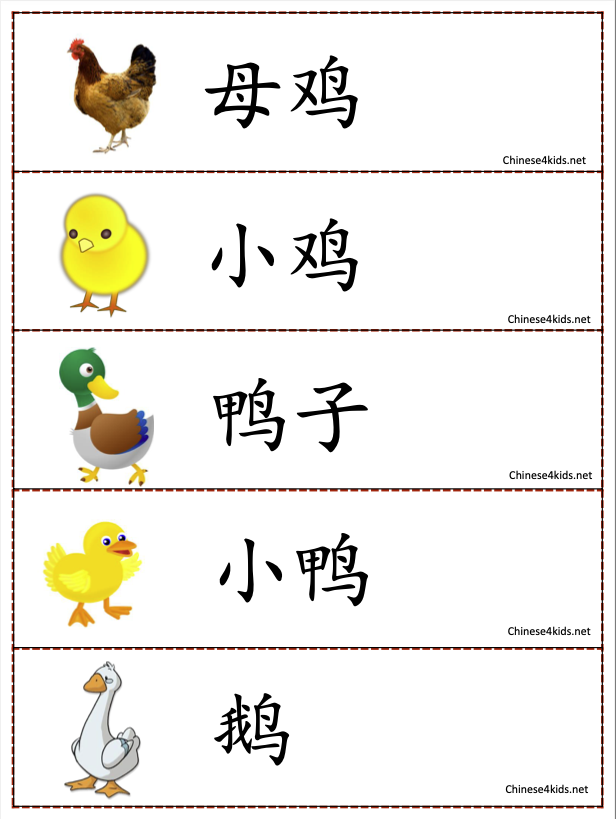 *source: Farm Animals Chinese Learning Pack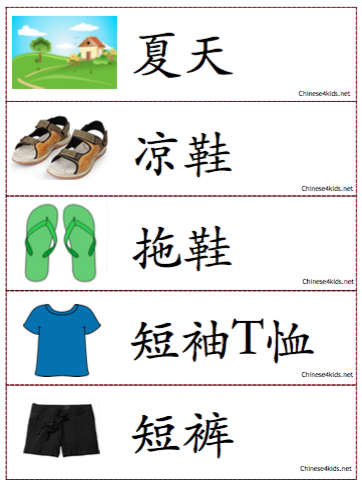 source: Theme Vocabulary Pack – Seasonal Clothes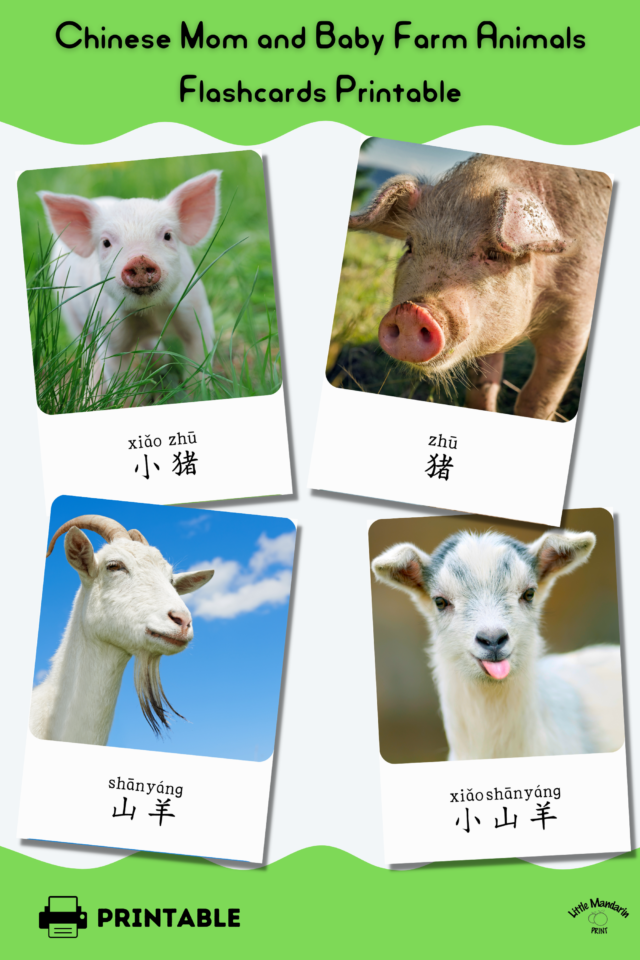 source: Mom and Baby Farm Animals Montessori Chinese Learning Flashcards for Kids
Animal Sounds in Chinese
Apart from farm animals, animal sounds are also interesting for kids to learn in Spring.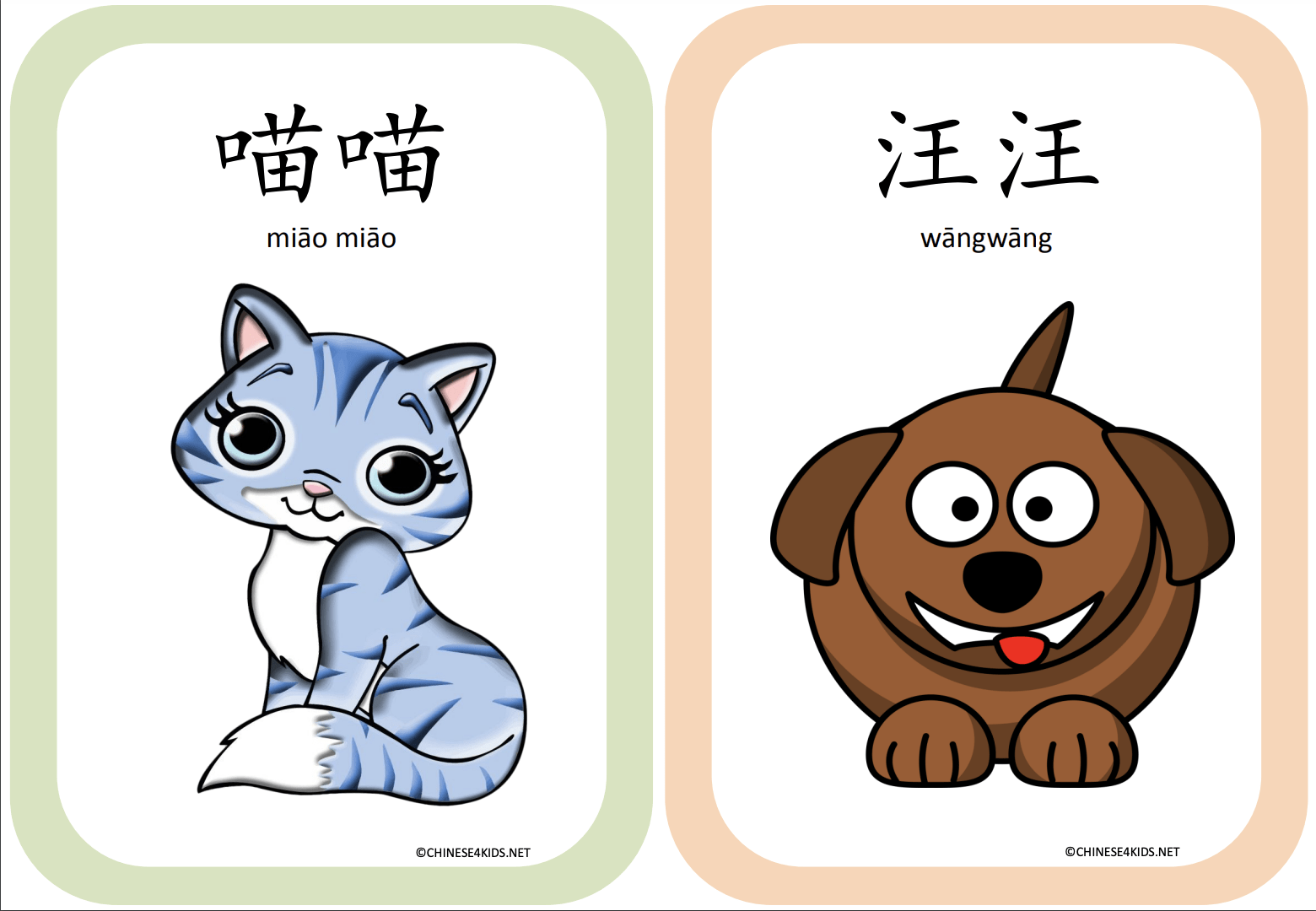 *source: Chinese Animal Sounds Theme Learning Pack Flashcards and Worksheets
Chinese Nursery Rhythms
#1 about Spring
Longer days, more sunshine, blossoms of little flowers … Spring is in the air. Spring is the perfect time to learn some new nursery rhymes.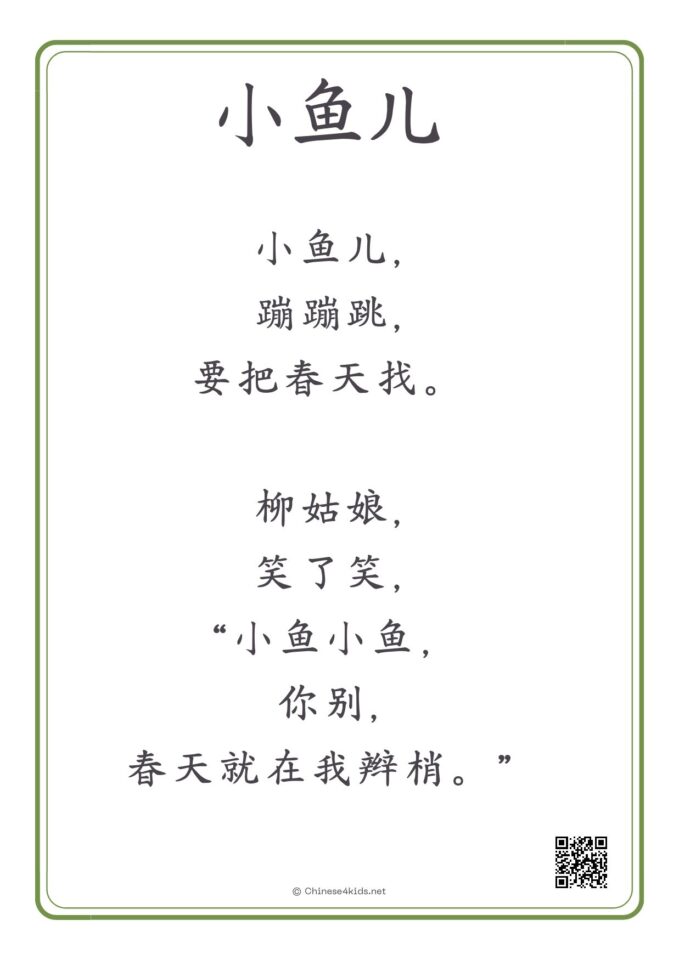 source: Chinese Nursery Rhythms for Spring
about Animals
Kids are genuinely interested in animals in general. Springtime is the perfect time to learn about animals because kids now come across  them, for example, in the park, at the zoo or simply in their community.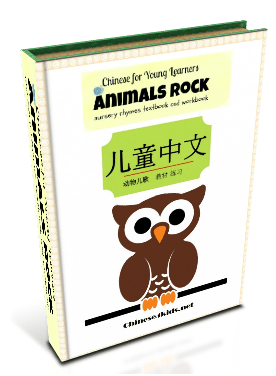 Source: Animals Rock: Chinese Animal Nursery Rhythms including Workbook
Learn Chinese Tongue Twister
Chanting a tongue twister is a brilliant way for kids to learn Chinese. Getting the sounds and tones correct and avoiding the tongue from getting twisted always bring lots of laughter. Here is one example: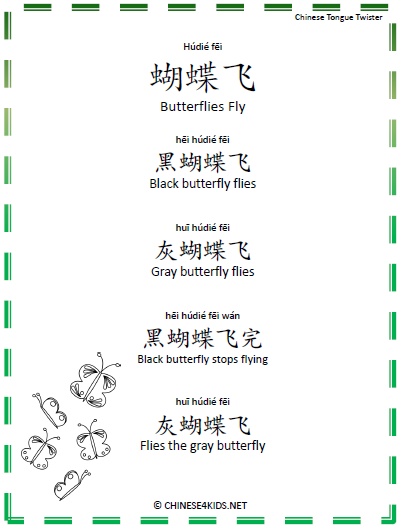 *Source: Spring Theme Learning and Activity Worksheets
Chinese Children's Poem
Here is one poem for children to learn.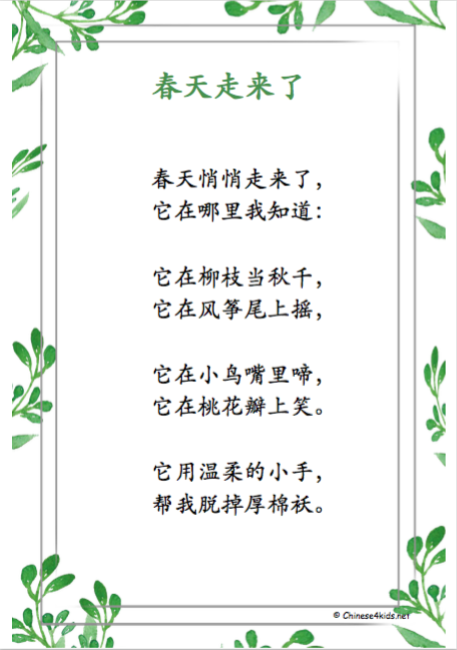 *Source: Spring is Getting Near Chinese Poem for Kids and Activity Worksheets
After learning the poems, working on some activity worksheets can enhance the whole learning experience.
Chinese to Learn During Gardening
A nice activity which gets all the family members involve is Gardening. Visiting gardening centers is great fun for kids. Planting the flowers or vegetable in the garden is even more fun for kids.
When we do gardening together with the kids, it is also a good chance to introduce them to the different tools, ways of planting and how a plants grows. The items can be introduced in Chinese and a follow up lesson going through the vocabulary and practicing writing the characters would deepen the whole Chinese learning experience.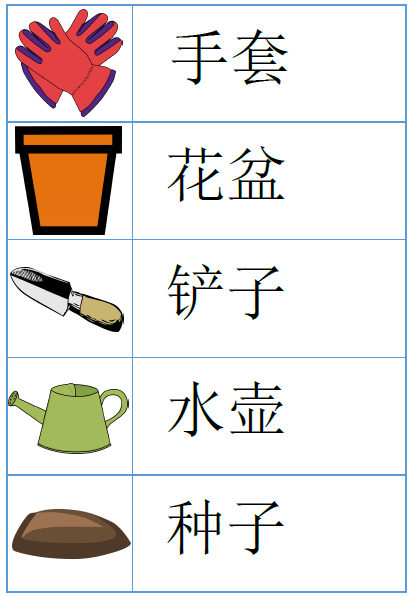 Source: Gardening Theme Chinese Learning Pack for Kids
Fun Activities
There are many other learning activities kids can do during Springtime. An easy activity kids can do all the time on sunny or rainy days is coloring.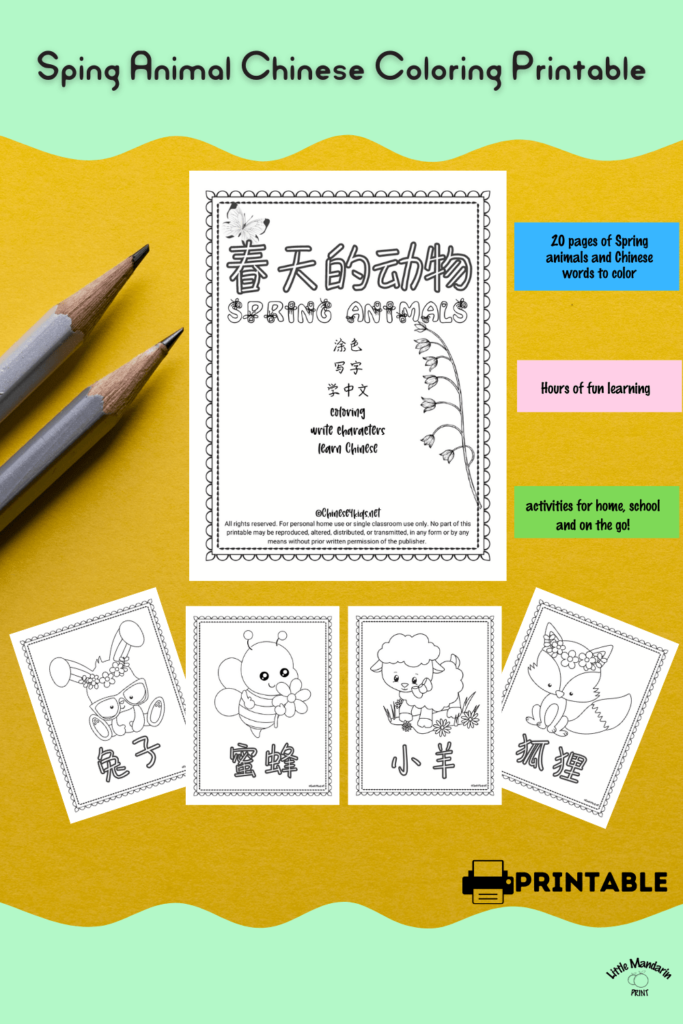 *source:  Spring Easter Animal Chinese Coloring Pages for Kids
You can also have kids have some puzzle fun: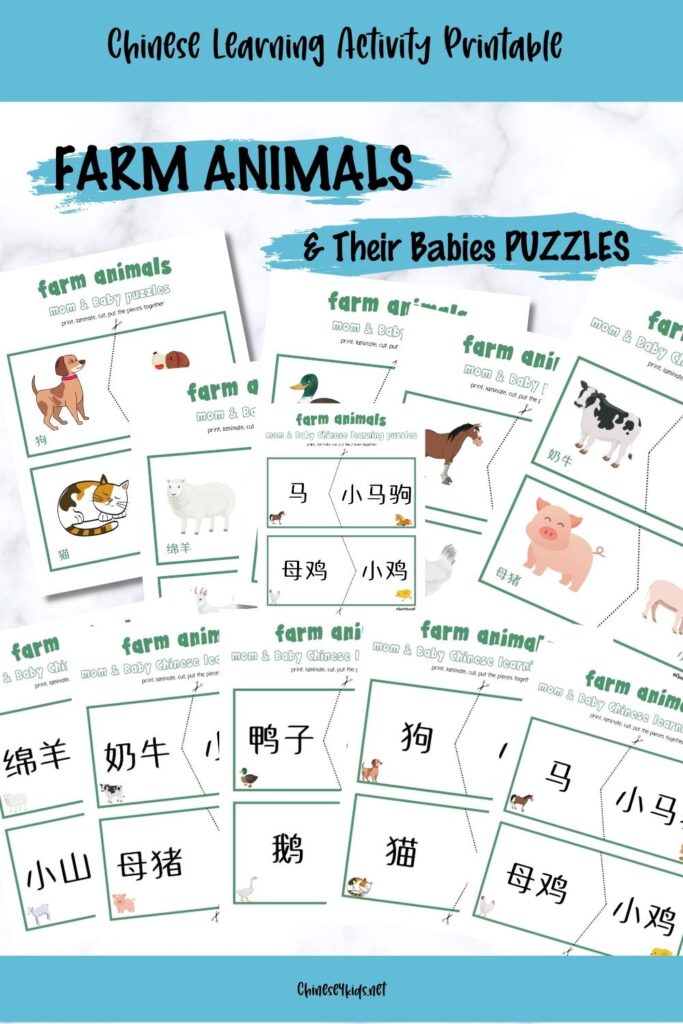 source: Farm Animals and Their Babies Puzzle – Fun Activity for Chinese Learning
Easter
Easter is the highlight of the Springtime. Kids love it because of the beautiful Easter decoration, delicious food, especially the egg hunt!
How to Learn Chinese in Springtime?
1. Learn the general Chinese Spring vocabulary
Learn the general Spring Chinese vocabulary lays a foundation for further learning. So don't skip this .
2. Learn outdoor
Now that the weather is warmer, get out of the room and enjoy the sun and fresh air. It does not matter if it is a field trip, a walk in the garden or simple outside the room,  learning in the outdoor environment just makes learning more memorable.
3. Learn while doing
Working in the garden, playing Chinese vocabulary memory games, doing crafts, coloring, cutting/pasting/assembling are all good activities to engage both the hands and the brain. All the learning resources mentioned above include this type of hands-on activities.
4. Record the learning
Ask the child to summarize what they have learned in Chinese; take a photo of what the child has made; let him/her draw what they know about certain topic… find a way of recording the learning journey and cherish it with the child in the near future!
Spring is here. Let's make Chinese learning fun and engaging!
If you like it, Pin It!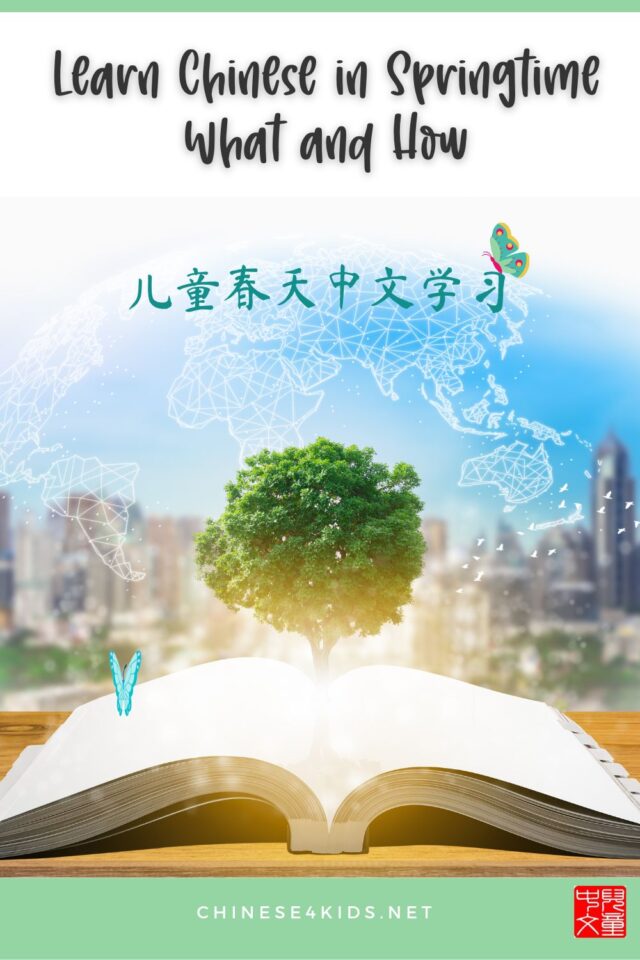 ---
Resources mentioned above: