AA question many Chinese learners ask is: which textbook I should choose. Indeed a good textbook can raise the interest of students and provide the interactivity to engage and involve the students in the learning process.  When choosing a Chinese textbook, we need to consider the purpose and the age/level of the student. Here is a list of selected, highly-regarded Chinese textbooks for children based on the audience and learning outcome.
Chinese Textbooks For Kids
轻松学汉语 Chinese Made Easy for Kids

Chinese Made Easy for Kids has been in the market for a quite a long time. It is a textbook for young children (kindergarteners and early primary schoolers ) to learn Chinese as beginners in many countries. There are 4 books as well as 4 workbooks in this series. After completing this series, kids should be able to recognize 500 Chinese characters and to write around 100 character. What's more, students will start to develop communication skills in Chinese.
Book 1  |  Workbook 1
Book 2  |  Workbook 2
Book 3  |  Workbook 3
Book 4  |  Workbook 4
Chinese Textbooks For Teenagers
Learn Chinese with Me 跟我学汉语
Learn Chinese with Me is a series of Chinese textbooks designed for children of 15 to 18 years old whose native language is English. It starts with beginning level and then progresses to low-intermediate level. It has both textbooks and workbooks.
Book 1  |  Workbook 1
Book 2  |  Workbook 2
Book 3  |  Workbook 3
Book 4  |  Workbook 
Huile Hanyu 快乐汉语

Huile Hanyu is good for middle school and high school students (11-16 years old) with no Chinese background. All units are well organized and easy for students to follow.
Book 1  |  Workbook 1
Book 2  |  Workbook 2
Book 3  |  Workbook 3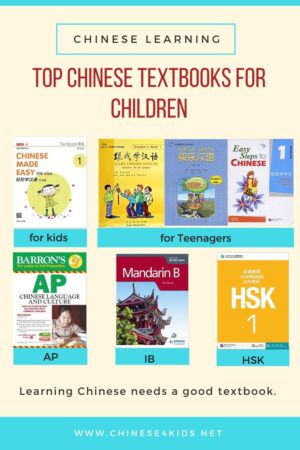 Easy Steps to Chinese 轻松学中文
There are 8 books in this series of Chinese textbook, featuring 3 different stages: Book 1 and 2 are Stage 1; Book 3, 4, 5 and 6 are Stage 2; and book 7 and 8 are stage 3. The goal of this series is to help students to set up a solid foundation of knowledge of Chinese language as well as Chinese culture.
Book 1  |  Workbook 1
Book 2  |  Workbook 2
Book 3  |  Workbook 3
Book 4  |  Workbook 4
Book 5
Book 6
Book 7
Book 8
AP Chinese Textbooks
Barron's AP Chinese Language and Culture, 2nd Edition
Many school choose this book to prepare students for AP Chinese language and culture. This book provides a comprehensive review for all part of the AP test: listening, reading, writing, speaking, grammar and culture. There are also two mock exams  in the book which gives students an understanding of the exam format as well as a self-evaluation reference.

IB Chinese Textbooks
Mandarin B for the IB Diploma
If your child is taking IB Chinese B, Mandarin B for the IB Diploma is a good choice. It is suitable for both SL and HL students as it includes all the core and option topics.
Gu Wu for Secondary Mandarin Chinese: Student Book & CD-ROM by Oxford
Gu Wu is published by Oxford University Press. It is suitable for the latest Cambridge IGCSERG syllabus (0547), IB DP Ab Initio and MYP Language Acquisition (Phases 1-3) frameworks.
HSK Standard Course
This series of HSK Standard Course is designed for students to prepare for the HSK tests. At it claims, it is trying to "match the HSK test in all aspects, from the content, form to the levels, it is a series of new-type course books embodying the idea of combining testing and teaching, and promoting learning and teaching by testing"". This series of HSK prep books are probably best known in the market since Confucius Institutes, other Chinese teaching institutions and self-taught learners all use it as textbooks when preparing for the exam. Therefore it is a good choice if you are planning to take an HSK exam.
Course 1
Course 2
Course 3
Course 4A  | Course 4B
Course 5A  | Course 5B
Course 6A  | Course 6B
If you like this article, Pin It!