Thanksgiving is not a well-known festival outside North America; actually many people know little about it. However, as an important festival celebrated in both Canada and USA, it is good to get to know about it.  It is also a great opportunity for children to learn Mandarin Chinese at the same time.
When is Thanksgiving?
Thanksgiving is celebrated in only a few countries such as Canada and USA but on different days. The basic concept of Thanksgiving is to give thanks to nature and the native American Indians for the harvest in the early days of the pilgrims who fled Europe with the Mayflower and started their new lives in the foreign land of America.
Thanksgiving is celebrated on the 2nd Monday of October in Canada and on the 4th Thursday of November in the United States.
Thanksgiving Vocabulary in Chinese
As Thanksgiving is a celebration of the harvest, it has a variety of Autumn food and bright colors. Let's have a look at some Thanksgiving vocabulary in Chinese:
turkey 火鸡
pilgrim 朝圣者
pilgrim hat 朝圣者帽子
Mayflower 五月花船
American Indian 印第安人
Fall 秋天
pumpkin 南瓜
Thanksgiving feast 感恩节大餐
pumpkin 南瓜
cranberry 蔓越莓
corn 玉米
acorn 橡果
apple 苹果
yam 番薯
bread 面包
pumpkin pie 南瓜派
corn bread 玉米面包
gravy 肉汁
pudding 布丁
cornucopia 聚宝盆
Happy Thanksgiving 感恩节快乐
Thanksgiving Food in Chinese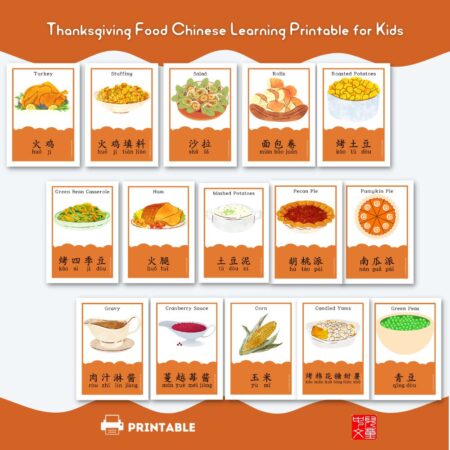 There are some food special for this special day of Thanksgiving. Here are the most popular Thanksgiving food in Chinese:
Turkey 火鸡
Stuffing 火鸡填料
Mashed Potatoes 土豆泥
Roasted Potatoes 烤土豆
Green Bean Casserole 烤四季豆
Candied Yams 烤棉花糖甜薯
Pumpkin Pie 南瓜派
Cranberry sauce 蔓越莓酱
Gravy 肉汁淋酱
Pecan Pie 胡桃派
Learn Chinese about Thanksgiving
Lots of fun activities we can have with kids around Thanksgiving. For example,
Thanksgiving Coloring Pages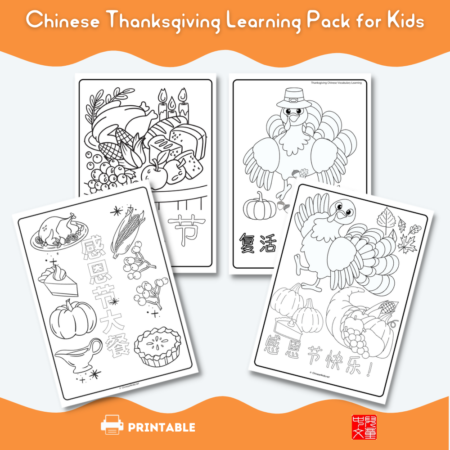 Color and learn Chinese Thanksgiving Vocabulary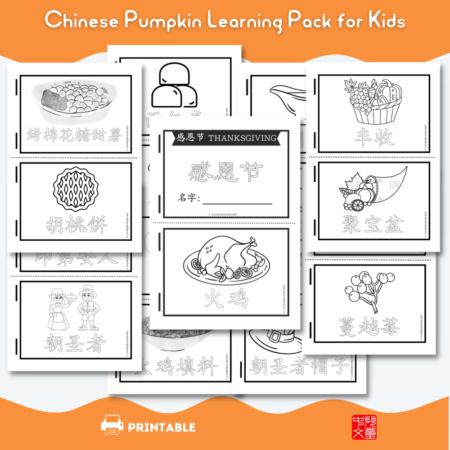 Thanksgiving Chinese Learning Activities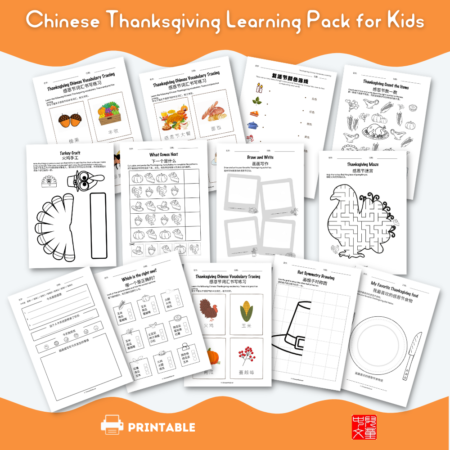 Gratitude Journal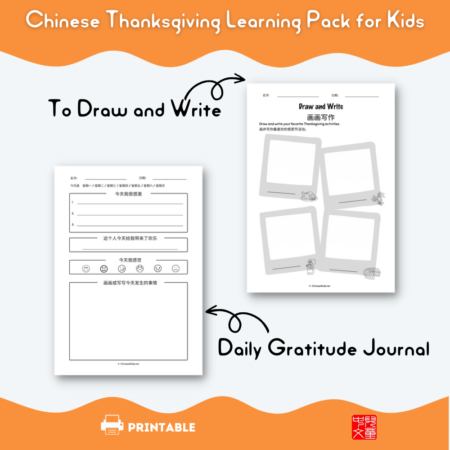 Thanksgiving Chinese Learning Pack for Kids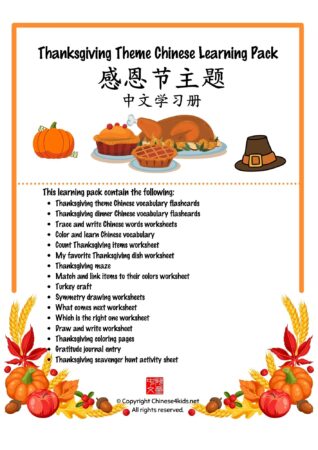 This is great to learn about Thanksgiving using a Chinese learning pack specifically designed for kids.
Apart from the Chinese vocabulary flashcards listed above, it has other worksheets such as
Trace and write Chinese words worksheets

Color and learn Chinese vocabulary

Count Thanksgiving items worksheet

My favorite Thanksgiving dish worksheet

Thanksgiving maze

Match and link items to their colors worksheet

Turkey craft

Symmetry drawing worksheets

What comes next worksheet

Which is the right one worksheet

Draw and write worksheet

Thanksgiving coloring pages

Gratitude journal entry

Thanksgiving scavenger hunt activity sheet
Have fun learning Chinese around Thanksgiving!
Resources Mentioned:
If you like this post, PIN IT!