We all have some sort of toolbox, a box we visit whenever we need to have certain jobs done. A toolbox for Chinese learning can be a great collection of tools that would help Chinese learning easier and better. Here I'm going to show you some of the tools that I use and I believe would be good additions to yours.
*This article contains some affiliate links.
Pinyin Toolbox for Chinese Learning
Pinyin is a useful tool for Chinese learning.
Online Pinyin chart is a great tool that features all the pinyin syllables and their pronunciation. An introduction to Pinyin is a good article for anybody who wants to learn more about Pinyin. And the Hanyu Pinyin Syllables Table Poster is a handy tool to have in a classroom or at home.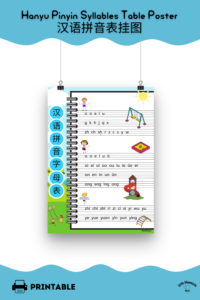 Mandarin Pinyin (with Audio MP3)
Pinyin practice worksheets
For young learners, writing pinyin is part of the learning.
The workbook above gives kids opportunities to practice pinyin writing from initials, finals, overall syllables recognition.
For students who have learned how to write pinyin, there are two types of pinyin worksheets they can use:
1. Pinyin handwriting worksheet

2. Pinyin & Character Tianzige handwriting worksheet

Toolbox for Learning Chinese Characters
We don't need to emphasize it: Chinese characters are an essential part of Chinese learning. Being able to recognize the characters is one thing; knowing how to use them and how to write them by heart is a real mastery.
Top 100 Commonly Used Chinese Characters
This is a great list for anybody who wants to spend the least time and achieve the highest impact.
Character handwriting practice is very important for any Chinese learners, especially kids.

Despite workbooks with certain sets of Chinese characters such as the Most Common Chinese Characters Handwriting Practice Workbook that allows the users to trace and practice character writing, there are different kinds of blank practice paper based on different needs.
Toolbox for Chinese Radicals
"A Chinese radical (Chinese: 部首; pinyin: bùshǒu; lit. 'section header') or indexing component is a graphical component of a Chinese character under which the character is traditionally listed in a Chinese dictionary."(-Wikipedia)
They are quite an important component of Chinese characters. Being able to recognize radicals helps to understand the characters more or less. This interactive radical chart from Yellowbridge is a great tool.
Toolbox for Chinese Character Etymology
Yellow bridge has a great dictionary that shows the etymology of Chinese characters.
Toolbox for Chinese Character Stroke Order Animation
Sometimes it is not easy to figure out the correct stroke order of writing a character. With the help of ArchChinese stroke order animation, it's possible to follow the stroke order easily.
Toolbox for Chinese Idioms
Chinese.cn.org has a collection of 50 idioms with stories.
Chinese Study Planners Tool
Planners help us stay organized. We have a set of FREE study planners for you to download.
If you like physical planners, here you are:
Chinese Learning Weekly Planner

Toolbox Chinese Learning Calendar
This interactive calendar invites young students to give information such as the date, weather, season, etc, and update the calendar together. It is a great easy tool to start a learning session on a daily basis and train the students to speak about the day in Chinese.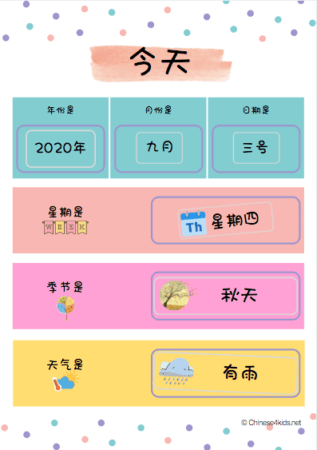 365 Days Chinese Learning Calendar Notebook (with access to online videos)
This calendar notebook introduces one simple but essential Chinese phrase/sentence each day of the year. Next to the sentences, there is also space for taking notes, doodling and organizing the to-dos in the week. What makes this calendar notebook special is that all the phrases have audio files accessible from the website.
Learning Environment Setup Toolbox
A good way to inspire kids to learn Chinese is to create a positive environment. Nothing can be better than inspirational quote posters like this one: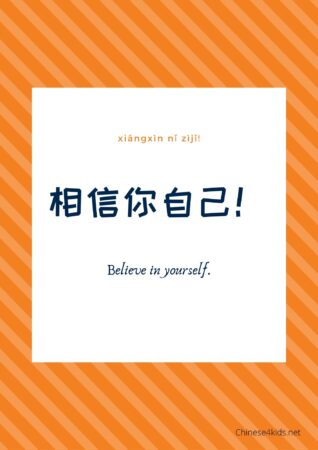 Or the Learning Posters good for classroom and homeschooling display.
To quickly set up a Chinese classroom or a homeschooling room, the following Chinese classroom setup pack is a great help.
Flashcards, no matter what type they are, are perfect for learning Chinese vocabulary. Kids learn about new Chinese vocabulary especially around topics well with the aid of flashcards. Apart from our Chinese Learning Flashcards Hive, we also created a Chinese vocabulary youtube playlist where you can learn Chinese vocabulary with flashcards.
Do you have anything to add to this list? Let me know!
If you like this post, pin it!