Hooray, 2020 has come and we just started a new decade. At the beginning of a new year, we all make new plans. For my readers, improving your Chinese or helping your kids to get better at Chinese is for sure one of your plans. Am I right about that? In this article, I will show you some Chinese learning planners that will be a useful aid in your journey.
It is great to have New Year's resolutions made and start fresh. However, as we all have experienced: we are motivated to work on the goals at the beginning. However, as time goes on, our interest fades away and we tend to give in to other activities or commitments.
While this is totally normal, we often hope we have some sort of tools we can use to remind us to stick with our plans.
That's why I've created some planners…
… some planners to help myself and my kiddos to plan out their week, taking log for their study time, checking their reading, and tracking their Chinese learning habits.
So here are the planners
Chinese Learning Weekly Planner
This planner can be given to the student on Monday. With the help from a teacher or a parent, the child can plan out what tasks to work on each day of the week. For example, reading a Chinese book for 15 minutes can be a good task every day.
If there are more tasks that come up during the week, for example, homework, the child can add it in that day as well.
At the end of the day, the child can tick off all the tasks by marking them "done" .
At the end of the week, teachers or parents can go through the plan together with the child and leave a comment. In such a way, this weekly plan will serve as part of a Chinese learning portfolio.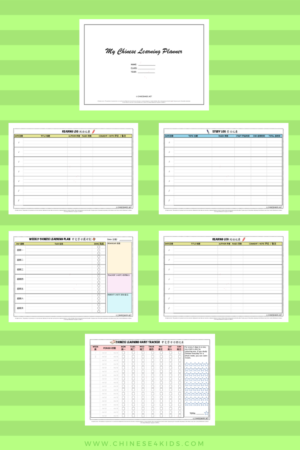 Here is one planner for your reference:
Chinese Study Log
Sometimes we want to see how much we've spent time on learning. This study log helps quantify the work and time we've put in.
It specifies what tasks the child works on, when s/he starts and when s/he finishes and the total amount of time s/he spends on the work.
This study log goes hand in hand with the weekly planner as it details the time and effort the child has spent. It serves as another piece in the learning portfolio that shows the progress over time. It also helps the child to visualize his/her commitment and therefore motivates him/her to work even more.
Chinese Reading Log
As soon as the child starts to read, it is a good idea to use this log to track his/her reading. If the child cannot read independently yet, it does not matter. You can use it to track the books he or she was read to.
Chinese Learning Habit Tracker
We want our kids to establish a Chinese learning habit. Once a habit is formed, s/he will spend time on Chinese learning even without being reminded, just like brushing teeth. However, before the habit is formed, we need to reinforce it by asking our kids to do the tasks regularly, if not daily.
The Chinese Learning Habit Tracker is quite simple: we tick the box off whenever we learn some Chinese on that day. If the child studies for 3 days in a row, s/he can color a star as a reward; if the child studies every day for the whole week, s/he can receive 3 stars in total.
For kids, ticking off the boxes is satisfactory, being rewarded with stars is even more motivating. We can put this tracker in an obvious place in the house so that the child can see, feel proud, and is willing to try even harder.
I have created these planners for you guys and I really want you and your kids to learn Chinese with more success. What you need to do is to click the DOWNLOAD button below to get access to it.
Enjoy them! Let me know how you use them!
If you like this post, PIN IT!