During the 15-day Chinese New Year celebrations, people want to express good wishes to family and friends. When they meet each other, they will say something that is pleasant to hear. These sayings are called Lucky Phrases (吉祥话).

Apart from the lucky phrases we often say, below I would like to introduce to you the lucky phrases that start with numbers.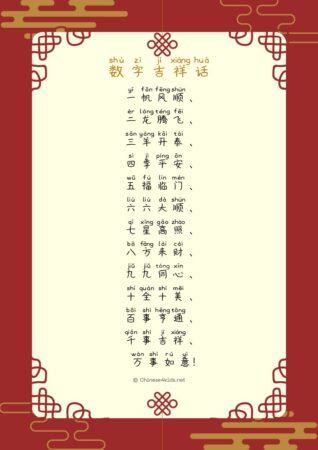 Click on the image Above to have list sent to you in your Inbox!
一帆风顺
二龙腾飞
三羊开泰
四季平安
五福临门
六六大顺
七星高照
八方来财
九九同心
十全十美
百事亨通
千事吉祥
万事如意
Wishing you one smooth voyage,
two dragons soaring,
three goats bringing peace,
four seasons of safety,
five blessings at your door,
six-six ('flowing') great favor,
seven stars shining down from on high,
eight directions yielding wealth,
nine-nine ('long-lasting') harmony,
ten (out of ten) for excellence,
100 (all) things to your liking,
1,000 (all) things lucky,
10,000 (all) things your way.
If you want to use them, just add "祝你" in front, and you are good to go!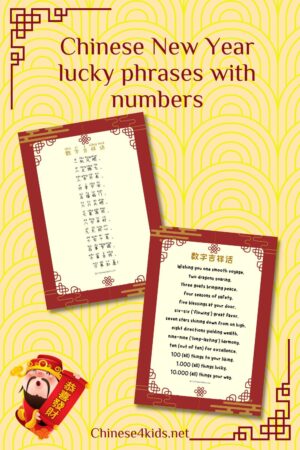 You May Also Like