When the weather gets warmer, we start to see insects everywhere: in the garden, we can find ants; in the park, we can see butterflies, ladybugs and bees. Have you introduced these little friends to your child? Let's learn some insects Chinese vocabulary together!
Insects Vocabulary in Chinese
Insect is called 昆虫(kūnchóng) in Chinese.
Here is a list of insects children often see:
蚂蚁 mǎyǐ ant
蝴蝶 húdié butterfly
蜻蜓 qīngtíng dragonfly
瓢虫 piáo chóng ladybug
毛毛虫 máomao chóng caterpillar
苍蝇 cāngyíng fly
蚊子 wénzi mosquitto
蜜蜂 mìfēng bee
蚱蜢 zhàměng grasshopper
萤火虫 yínghuǒchóng firefly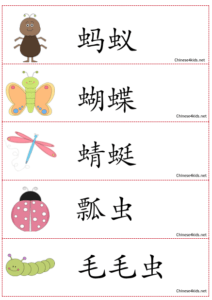 Note: this worksheet, together with Insect word wall and flash cards, is available for our members in the membership area.
Sentence Example of Insect Vocabulary in Chinese
Let's make some sentences with these insect vocabulary.
春天到了,蝴蝶到处飞舞。
Chūntiān dàole, húdié dàochù fēiwǔ.
Spring has arrived. Butterflies are flying around.

花园里我看到很多蜜蜂。
Huāyuán lǐ wǒ kàn dào hěnduō mìfēng.
I see many bees in the garden.

毛毛虫长大后就变成蝴蝶。
Máomao chóng zhǎng dà hòu jiù biàn chéng húdié.
Caterpillars grow up and become butterflies.

我喜欢瓢虫,我不喜欢苍蝇。
Wǒ xǐhuān piáochóng, wǒ bù xǐhuān cāngyíng.
I like ladybugs, and I don't like flies.
If you like this post, PIN IT!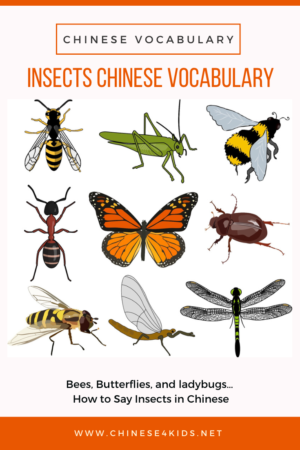 You can also purchase Insects Theme Chinese Learning Pack at our eBook store.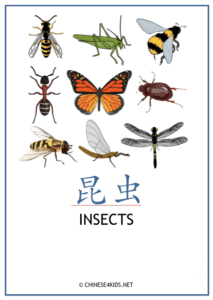 ---
You may also be interested: