It is interesting to visit farms, especially for children. Farm animals such as chicken, cows and dogs are great fun for children to watch and sometimes even to play with.
Because children love farm animals and farm animals can be found in any farm,  kids usually find it easy to learn the animal words in Chinese.  Here is a list of the most common farm animals  in Chinese.
FARM ANIMALS IN CHINESE VOCABULARY
绵羊  miányáng sheep
山羊  shānyáng  goat
羊羔  yánggāo  lamb
鸡   jī   chicken
公鸡  gōngjī  rooster |cock
母鸡   mǔ jī   hen
小鸡   xiǎo jī  chick
鸭子   yāzi  duck
小鸭   xiǎo yā   duckling
鹅   é   goose
火鸡   huǒ jī   turkey
兔子   tùzǐ    rabbit
小兔子  xiǎo tùzǐ  bunny
马   mǎ   horse
小马  xiǎo mǎ   pony
驴   lǘ    donkey
牛   niú   cattle
奶牛   nǎiniú   cow
猪   zhū    pig
狗  gǒu    dog
小狗  xiǎo gǒu  puppy
猫  māo    cat
老鼠    lǎoshǔ  rat
农场动物  nóngchǎng dòngwù  farm animals
SENTENCE EXAMPLES OF FARM ANIMALS IN CHINESE
Let's make some sentences with these words:
春天在农场可以看到羊羔,小鸡和小鸭。
Chūntiān zài nóngchǎng kěyǐ kàn dào yánggāo, xiǎo jī hé xiǎo yā.
In Spring lambs, chicken and ducklings can be seen in the farm.
你喜欢小兔子吗?
Nǐ xǐhuān xiǎo tùzǐ ma?
Do you like bunnies?
我有一只猫和一条狗。
Wǒ yǒuyī zhǐ māo hé yītiáo gǒu.
I have a cat and a dog.
If you like this article, Pin It!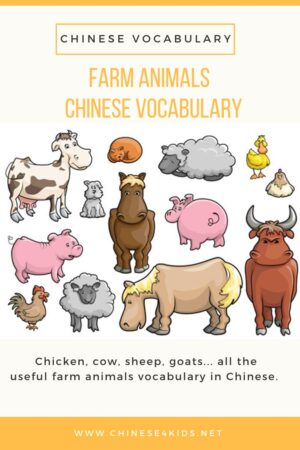 You can also purchase
Farm Theme Chinese Learning pack
at our eBook store
You May Also Be Interested: