It always feels good when giving or receiving a gift. As holiday season is starting,  isn't it nice to spice it up with Chinese when choosing, wrapping and giving gifts? Here I would like to share with you some activities to learn Chinese around the theme of gift. Whether you are planning for a holiday unit study in Chinese or a quick lesson activity, you can find something useful in the Gift Theme Chinese learning pack for kids.
Here are some words you should know:
礼物    gift                                 Lǐwù
包装礼物        wrap up a gift              Bāozhuāng lǐwù
送礼物            give a gift                      Sòng lǐwù
收到礼物        receive a gift                Shōu dào lǐwù
WHAT IS IN GIFT THEME CHINESE LEARNING PACK?
This pack features many well designed worksheets or activity sheets to cover many aspects of fall, such as
– Gift theme vocabulary word walls
These word walls can be used on the word walls to give children quick reference to the main Chinese key vocabulary of gift theme.
– Parts of a Wrapped Gift in Chinese
You can find different pars of an opened wrapped gift in a box.

– Word cards and Chinese word writing worksheets
These Chinese gift themed word cards feature the image, Chinese words and pinyin as well the character writing worksheets. They can be used as practice worksheets as well as vocabulary learning cards.

– Gift theme activity worksheets
Fun activity worksheet invites kids to have hands-on activities and to practice the Chinese words they've learned by labeling the parts of an unwrapped gift.
– Picture/Chinese Gift theme word cards for memory game
This fun game allows kids to play and practice the Chinese words at the same time.
If you like this post, PIN IT!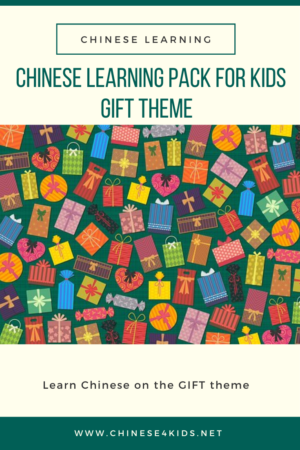 ---
This eBook is now available in our eBook shop. Check it out!
Gift THEME CHINESE LEARNING PACK FOR KIDS
Need some inspiration on gifts with Chinese elements? Have a look!
IDEAS OF GIFTS WITH CHINESE ELEMENTS
You May Also Be Interested: