It is dark and cold in winter. It can be however a really interesting season for children, especially on the snowy days. Here let's learn a Chinese nursery rhythm named "It's Snowing".
下雪了 It's Snowing
下雪了,下雪了
xià xuěle, xià xuěle
It is snowing, it is snowing

屋子长高了
wūzi zhǎng gāole
Houses grow higher

小路变胖了
xiǎolù biàn pàngle
Roads become fatter

大树变白了
dà shù biàn báile
Trees turn into white

宝宝的鼻子变红了。
bǎobǎo de bízi biàn hóngle
The nose of the baby is red.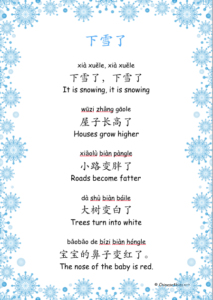 This easy Chinese nursery rhythm shows an image of a day in Winter when it snows.  In this article, I am going to introduce the different activities listed in the chant and how we can teach it to kids.
What to Learn About this Nursery Rhythm
It is important for the kids to observe the changes caused by the snow:
The snow falls on the roof and adds a layer to it as if the house becomes higher.
The snow covers the roads, making the road look wider and bigger.
Trees become white as snow falls on and around the branches.
And the kids' noses become red because they stay outdoor in the cold…
We can first learn the key vocabulary mentioned in the nursery rhythm.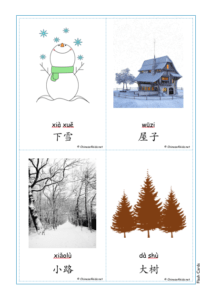 Then we can teach the nursery rhythm line by line using a mini book like below: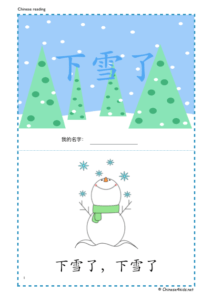 In the end, we can use this activity worksheet to make the learning more engaging.
The learning can take in a course of several days, each time touching a different aspect with activities. Have great fun!
How to Get the Resource
Related Resources
If you like this post, PIN IT!