小朋友,过新年,
Xiǎopéngyǒu, guò xīnnián
Little friends, we are celebrating the New Year

穿新衣,贴春联,
Chuān xīnyī, tiē chūnlián
We put on new clothes, and we glue the Spring Festival couplets

点灯笼,放鞭炮,
Diǎn dēnglong, fàng biānpào
We light up lanterns, and we set off firecrackers

还有饺子和压岁钱,
Háiyǒu jiǎozi hé yāsuìqián
There are also dumplings and lucky money

欢欢喜喜过大年。
Huānhuānxǐxǐ guò dànián
Let's joyfully and merrily celebrate the New Year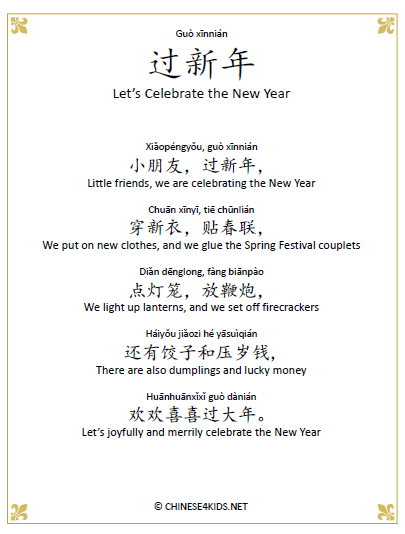 This cheerful Chinese chant is a great one to learn about how Chinese children celebrate the Chinese New Year, or Spring Festival. In this article, I am going to introduce the different activities listed in the chant and how we can teach it to kids.
How Do Children Celebrate Chinese New Year
As the chant mentions, Chinese children conduct the following activities to celebrate Chinese New Year.
穿新衣
New clothes for the new year. This custom represents a good wish for a brand new beginning for the new year.
贴春联
It is an important tradition to put on Spring couplets on the two sides as well as the top of the gate frames of the house. Spring couplets are composed of a pair of poetry lines, normally written on red paper, with characters in black or golden. Hanging up Spring couplets expresses people's delight and wishes for a better life in the coming new year.
点灯笼
Before Chinese New year, many Chinese cities and houses are lighted with lanterns. Beautiful lanterns decorated cities and homes with great festive atmosphere. For children, how much fun it is to carry a lit lantern!
放鞭炮
Setting off fire crackers used to be the most fun part of the whole Spring festival celebration for many Chinese people. However, this tradition is no longer kept in most part of China. Only in rural places, children can still enjoy the fun of fire crackers.
饺子
Jiaozi, Chinese dumpling, is a must-have main dish for Chinese New Year Eve dining table. Have a look how to make it and how to eat it.
压岁钱
The happiest moment for a child is Chinese New Year day. On that day, she or he can receive red envelopes from parents, grandparents, aunts and uncles. Inside the red envelopes there is money so called lucky money, or new year gift money.
Let's have a look at the origin of lucky money.
Let's Learn the Celebrating Chinese New Year Chant
After introducing the different activities to the kids, it is good time to teach the kids this cheerful Celebrating Chinese New Year Chant.
We can show pictures of the different activities and teach kids the terms for these activities.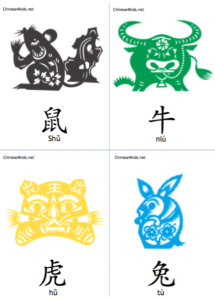 Once students get familiar with these activities and can identify them easy, they can move on to have an exercise on matching the activity images to their Chinese terms.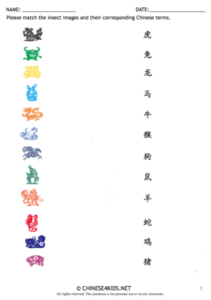 They can also draw what they understand in terms of the celebration activities.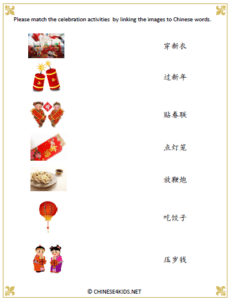 Of course you can ask the students to act out these activities or have them done bit by bit in a course of several days. Just keep in mind, following the year of the tiger, 2023 is going to be the year of the rabbit and it falls on Jan 22!
How to Get the Resource
Click Here to Purchase the Chant and Activity Worksheets in our eBook Store for $3
Click Here to Join our Membership Club to Access it and lots more of other Chinese learning materials 
If you like this post, PIN IT!