Halloween is an exciting event for people, esp. kids. Carving pumpkins, decorating houses, putting on scary costumes, trick or treat… so many exciting things for all to enjoy. If you are preparing to welcome Halloween, check out the post Halloween Chinese Learning Ideas and Activities for Kids for ideas.
Halloween Chinese Learning Activities
Here I'm going to talk about several Chinese learning activities you can have with your kids. And most of them are featured in our updated Halloween Chinese Learning Pack for Kids.
Halloween Chinese Vocabulary Flashcards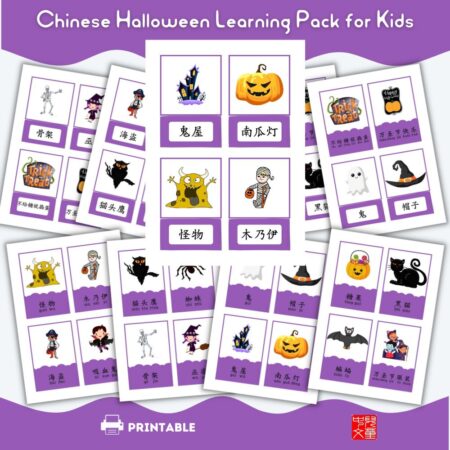 Montessori 3-part flashcards are perfect for learning Chinese vocabulary. They can be used to play games such as spot and shout, memory games and so on.
Chinese Writing Practice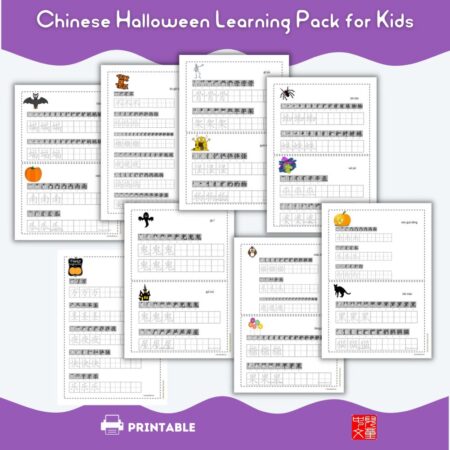 Learning to write the Chinese words following the correct stroke order is important. These worksheets are perfect for people of any age to learn to write the Chinese words well.
Color and Learn Halloween Chinese vocabulary Book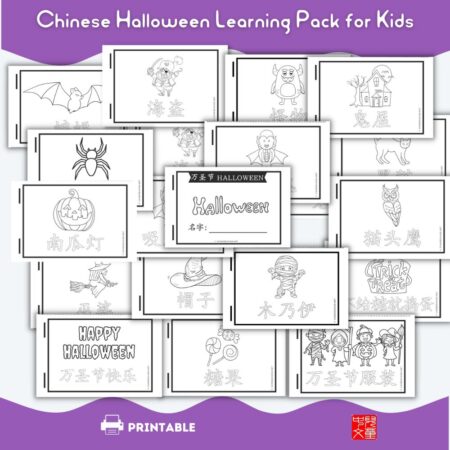 For younger Chinese learners or the ones who love coloring and tracing, this color and learn worksheets will give them hours of joy. In addition to the fun of coloring, students can learn how to write the Chinese words as well. In the end, they can assemble the sheets together and get a lovely personalised Halloween vocabulary book which they can carry around, review and share with friends and family.
Halloween Themed Worksheets and Activity Sheets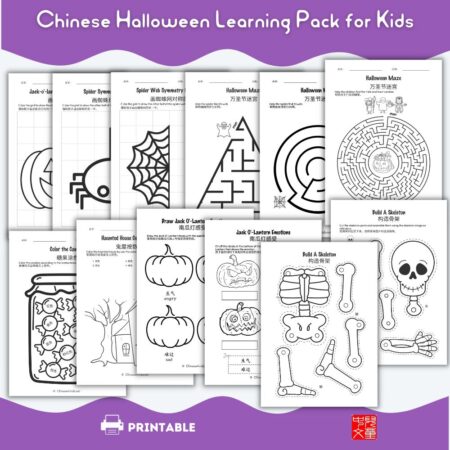 Kids need hands-on experience to master knowledge and skills. This set of worksheets are fun and tackle different aspects of Halloween learning. For example, the symmetry drawings and mazes are fun for kids to play; color the candies and color by numbers teach kids the colors. Jack O'-lantern emotion worksheets allow kids to identify and create the right emotions. The activity of building a skeleton combines body parts with fine motor skills like cutting, thinking, and assembling.
Halloween Bookmarks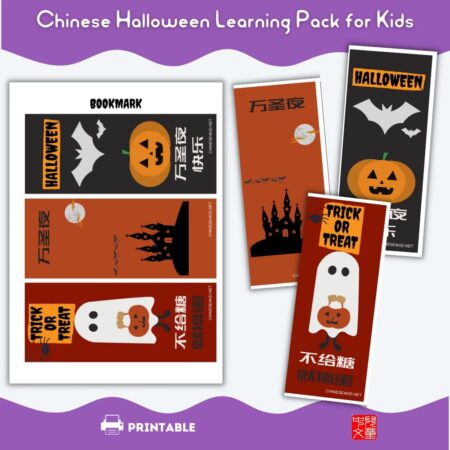 If your kids love reading, why don't you give them a bookmark of Halloween theme (in Chinese)?
Halloween Chinese Learning Video
Finally, here is a video introducing Halloween in Chinese – good for Chinese students who can understand some Chinese. Remember that you can modify the speed to make it easy for understanding.
Resources Mentioned Above:
If you like this post, share it