Chinese Nursery rhythms, 童谣 or 儿歌, are much more than a quick and easy way to entertain and distract children. The truth is that Chinese nursery rhythms introduce young children to the idea of storytelling, expose them to new words and social situations, and boost their language development.
Through nursery rhymes, children develop auditory skills such as discriminating between sounds and tones and therefore develop the ear for the rhythm of the words. The repetition of the nursery rhythms also helps children become aware of the individual unit of the sounds and the flow of the language.
Here we are going to have a look at 6 Chinese nursery rhythms on Animals. They help kids not only develop Chinese vocabulary around animals but also get to know more about the animals (eg. the sound of a bee, a chick, a duck, etc.).
两只老虎 Two Tigers
两只老虎
两只老虎
跑得快,跑得快
一只没有耳朵
一只没有尾巴
真奇怪,真奇怪
小白兔 Little White Rabbit
小白兔,白又白
两只耳朵竖起来
爱吃萝卜爱吃菜
蹦蹦跳跳真可爱
小鸡和小鸭 A Chick and A Duckling
小鸡小鸡叽叽叽
爱吃小虫和小米
小鸭小鸭嘎嘎嘎
扁扁嘴,大脚丫
一只哈巴狗 A Pug
一只哈巴狗,坐在大门口,
眼睛黑黝黝,想吃肉骨头,
一只哈巴狗,吃完肉骨头,
尾巴摇一摇,向我点点头。
蜗牛 Snail
小小蜗牛
下雨不愁
背着房子
东游西游
一只小蜜蜂 A Little Bee
一只小蜜蜂呀
飞到花丛中呀
飞呀,飞呀

二只小耗子呀
跑到粮仓里呀
跑呀,跑呀

三只小花猫呀
去追小耗子呀,
追呀,追呀

四只小花狗呀
去找小花猫呀
玩呀,玩呀

五只小山羊呀
爬到山坡上呀
爬呀,爬呀

六只小鸭子呀
跳到水里面呀
游呀,游呀

七只小白灵呀
站在树枝上呀
唱呀,唱呀

八只小孔雀呀
穿上花衣裳呀
美呀,美呀

九只小白兔呀
竖起长耳朵呀,
蹦呀,蹦呀

十个小朋友呀
一起手拉手呀
笑呀,乐呀
If you like it, PIN IT!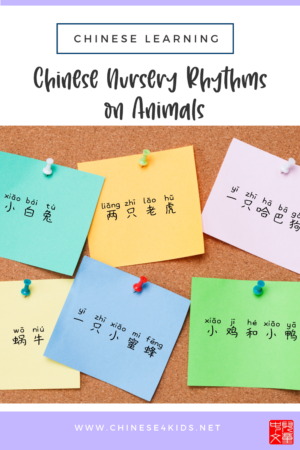 You May Also Find the Following Useful: