Kids have a natural fascination with farm animals and their babies. Learning the Chinese names of farm animals is an important part of the farm unit. This Mom and Baby Farm Animals Puzzle activity is a great extension to Chinese learning themes of the farm, animals, baby animals, and so on.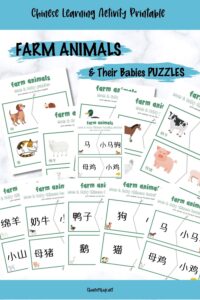 Farm Animals and Their Babies Chinese Vocabulary
Here are some of the farm animals and their babies in Chinese: 
奶牛 cow

小牛犊 calf

马 horse

小马 foal

猪 pig

小猪 piglet

山羊 goat

小山羊 kid

绵羊 sheep

小羊羔 lamb

鸭子 duck

小鸭子 duckling

鹅 goose

小鹅 gosling

母鸡 hen

小鸡 chick

狗 dog

小狗 puppy

猫 cat

小猫 kitten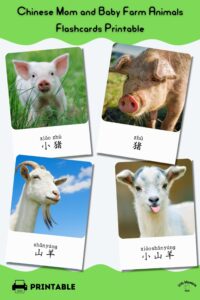 How to Use Farm Animal Puzzles
The goal of the puzzle game is to put the farm animal babies next to their mothers. 
For the younger learners, it's better to start with the puzzle with images on the pieces. For older or more advanced Chines learners, puzzles with Chinese words can be the next level challenge.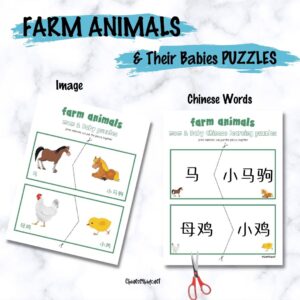 The puzzles should be cut into pieces (so that kids can assemble them together!)I would print them on cardstock or even better, laminate them so as to use the pieces over and over again. 
If you like this post, PIN IT!