It's the perfect time for kids to spend time in the garden: planting a seed, watering a seedling, watching a sprout, or taking care of the plants and flowers… There is so much more involved in this simple enjoyable activity: biology, scientific thinking, observation, and of course, language learning. Here are some fun Gardening and Plants Chinese learning that can be incorporated into your gardening practice.
Learn About Gardening Tools
Gardening requires tools. How about learning the names of some common tools in Chinese such as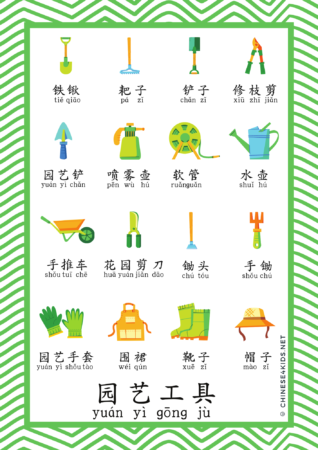 Source: Chinese Learning Flashcards Hive
Learn About Plants
First, we can start exposing our kids to the key plant vocabulary: the key stages of its life cycle, and the parts of a plant.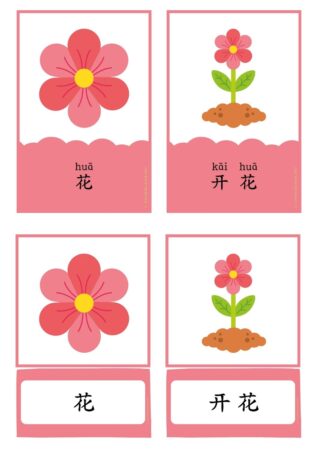 Secondly, a plant has several parts. Each part is located at different places of a plant.
Thirdly, a plant has a life cycle: it all starts with a seed. Helping kids visualise each stage of a plant's life cycle is very important. Naming each stage in Chinese empowers them to be more willing to express themselves in Chinese while gardening.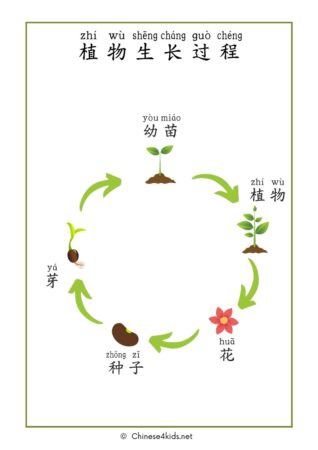 Since kids are looking after the plants and watching them grow, they should also investigate what plants need in order to grow well.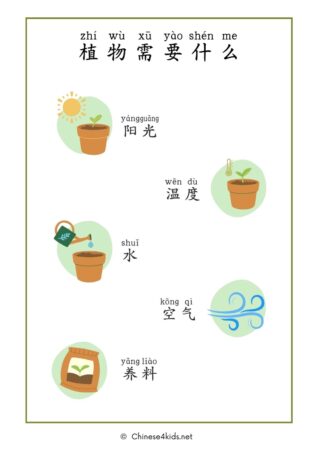 These posters provide a visual aid for understanding the anatomy and life cycle of plants as well as what plants need to grow. They can be used to spark discussions about gardening and to introduce new vocabulary words.
Read About the Life Cycle of A Plant
This reading provides an opportunity for children to practice reading Chinese while also learning about the different stages of a plant's life cycle. It's a fantastic way for children to use the information they've learned from their prior study and apply them in further reading.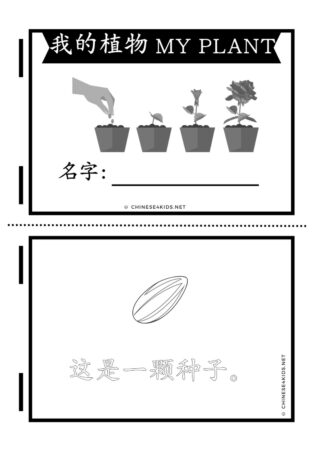 Practice Writing the Key Chinese Vocabulary Words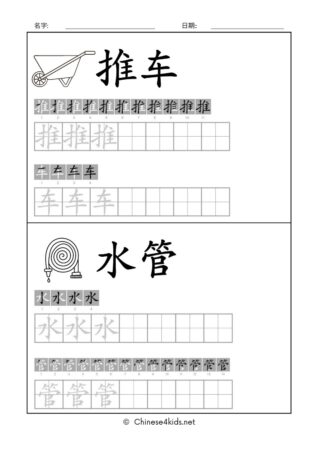 A vital part of leaning Chinese is to learn how to write. Writing the key gardening and plant Chinese vocabulary following the correct stroke order helps kids really master these words. 
Gardening and Plants Chinese learning Worksheets
Worksheets provide a fun way to learn about gardening and plants. They allow children to output what they've learned so far. Therefore they reinforce the vocabulary words they've learned as well as the gardening and plants knowledge. To name some exercises:
The Label the Plant Parts worksheet and Label Stages of Plant Lifecycle worksheet are great tools for reinforcing the vocabulary words learned in the other materials. By labelling the different parts of a plant and the stages of its life cycle, children can better understand how plants grow and develop.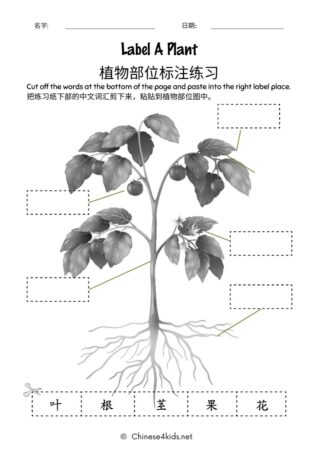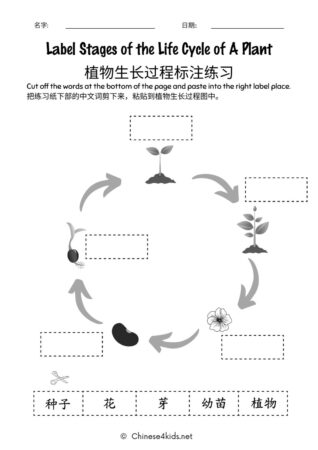 The What Plants Need to Grow Worksheet offers even more opportunities for children to practice the conditions necessary for plants to thrive. By completing these worksheets, children can demonstrate their understanding of the material and develop their Chinese language skills.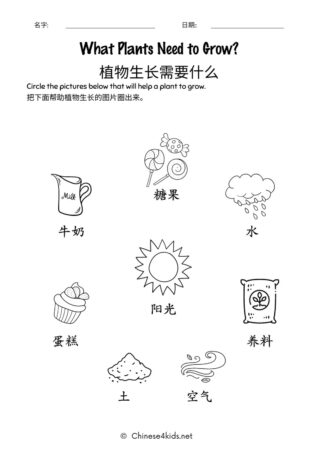 Gardening and Plants Chinese learning Coloring Pages
Finally, the coloring pages provide a fun and relaxing way for children to practice Chinese writing while also exercising their creativity.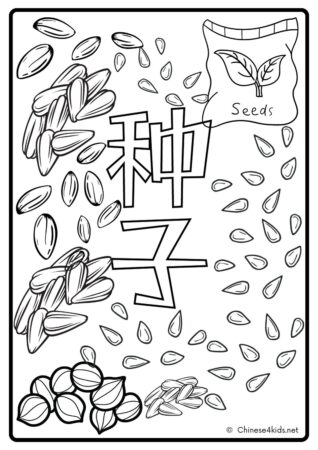 Incorporating Chinese learning activities into gardening practice can be a fun and effective way to improve the language skills for kids and beginning learners. These activities can help you expand your vocabulary and reinforce your knowledge of Chinese language. So, grab your gardening gloves and get ready to grow both your plants and your language skills!
If you like this post, share it