Mother's Day is a special day dedicated to honoring the most important woman in our lives. It's a day to show our appreciation for all the love, care, and sacrifices she has made to make us who we are today. Whether you're looking to celebrate your mom, grandmother, or mother figure in your life, there are plenty of ways to make this day special.
Ideas to Celebrate Mother's Day
Make her breakfast in bed. Start her day off with a special breakfast in bed. Whip up her favorite meal and surprise her with a tray full of goodies.
Plan a picnic. If the weather is nice, plan a picnic in the park or the backyard. Pack a basket with her favorite snacks and spend some quality time together.
Take her on a shopping spree, Spoil her with a shopping spree at her favorite store. Let her pick out a few items that she's had her eye on, and treat her to a new outfit or accessory.
Give her a spa day.Treat your mom to a day of pampering. Book a spa day or give her a gift card to her favorite spa. She'll love the chance to relax and rejuvenate.
Write her a letter. Take some time to write a heartfelt letter to your mom. Express your love and gratitude for all she has done for you, and let her know how much she means to you.
No matter how you choose to celebrate, the most important thing is to spend quality time with your mom and show her how much you care.
We can easily make Mother's Day special for our Moms. It would be even better if we could show our love and appreciation regularly by helping them out in everyday life. That's why I have created these special coupons that provide opportunities for children to express love in various ways, not just on Mother's Day.
Mother's Day Coupon
These coupons can be redeemed for various activities such as doing the laundry, washing the dishes, cooking dinner, or taking care of pets. These are simple yet effective ways to show love and appreciation for all that moms do on a regular basis.
The best part about these coupons is that they can be used throughout the year, giving children the chance to show their love and appreciation for their moms on a regular basis. It's a small gesture that can make a big difference in strengthening the bond between a mother and child.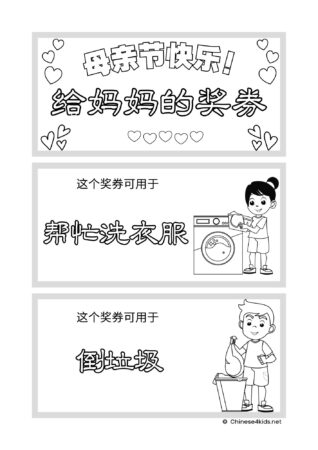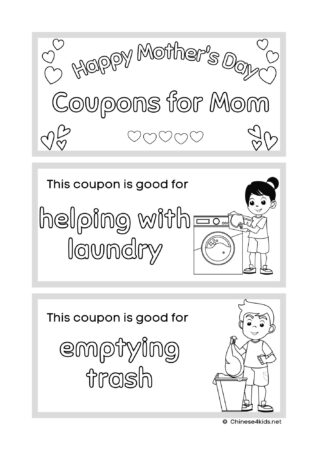 There are two versions of this set of coupons: English and Chinese. Kids can color and decorate the coupons and assemble them as a coupon book. On Mother's Day, they can give it to their Moms – the best gift a Mom can receive from their kids.
If you want to have this Mother's Day Coupon, you can get it below. (You can decide how much you would like to pay for it.)
I Want It!
In conclusion, Mother's Day is a special day that should be celebrated with love and appreciation. Whether you choose to celebrate with a special gift or a heartfelt letter, it's important to show your mom how much she means to you. And with our unique coupons for mothers, you can express love and appreciation on a regular basis, not just on Mother's Day.
If you like this post, please share it.