At the end of the school year, it is a good time to set aside some time to conduct some end-of-year activities. Just to name some activities: summarising the key things the kids have learned during the year; recalling and recognise the important person, special moments and interesting subjects during the year, etc.
One activity all the younger students enjoy is to create an End-of-Year Memory Book, a collection of memories such as "my favorite subjects", " my friends", "my teachers", " happy moments", "what I've learned" and so on.
Another activity is to help the students to reflect on the school year in general and their Chinese learning progress in particular. A thorough reflection helps the students recall what they have achieved so far, assess their performance, and look forward to their future development.
Here are some questions you can use for an informal class discussion. You could also select some and use them as writing prompts for older children.
All the questions are in both English and Chinese. Based on the Chinese level of the students, you can decide which version or both to use.
End of Year Chinese Learning Reflection Questions
1. What is something we did this school year that you think you won't forget?
这学年我们做过什么你认为你不会忘记?

2. What is something you accomplished this school year that you are proud of?
这学年你取得了什么成就你对此感到骄傲?

3. What is the most challenging part of Chinese learning this year for you?
这学年你觉得你中文学习的哪部分最有挑战?

4. If you could change one thing that happened this year, what could it be?
如果这学年你能改变一件事情,会是什么呢?

5. What is something that was hard for you at the beginning of the year but is easy now?
什么在学年开始对你而言很难而现在却很简单?

6. In what areas of Chinese learning do you feel you made the biggest improvement?
你感觉这学年在中文学习的哪些地方你进步最大?

7. Of the topics you have learned this year, which was your favorite? Why?
这学年你所学的所有主题中,哪个是你最喜欢的? 为什么?

8. What are the three most important things you've learned this school year?
这学年你学到的三件最重要的事是什么?

9. What are the 5 words that best describe this school year?
哪五个词可以最好地形容这个学年?

10. What are the three Chinese words/phrases that jump into your mind right now?
现在出现在你的脑海里三个中文词是什么?

11. Of the Chinese books you read this school year, which would you read again? Why?
这学年你读过的中文书中哪本你会再读一遍?为什么?

12. What was the best piece of Chinese writing that you did this school year? Why do you think it is your best?
这学年你最好的中文写作练习是什么?为什么你觉得那是最好的?
These Task Cards Make Reflection More Fun
We've created a task card deck featuring all the end of year Chinese learning reflection questions. For each question, there is a task card in English and another one in Chinese. Basically you can print the cards and cut them apart following the dashed lines. Then you can use them in whatever way you prefer.
If you like this post, PIN IT!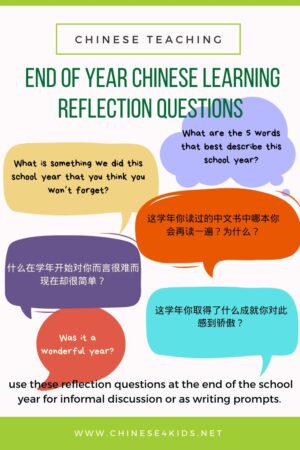 ---
Resources Mentioned Above:
You May Also Be Interested: