When talking about the most influential children's authors in the English-speaking world, Dr Seuss is the name which would pop up in many people's heads. Indeed, if you visit any library or bookstore in the USA, you will for sure find Dr Seuss' books. Students read his books in preschool and primary school.
Dr Seuss is popular for a reason: "His work includes many of the most popular children's books of all time, selling over 600 million copies and being translated into more than 20 languages by the time of his death."(Wikipedia) Even the national Read Across America Day, a day that teachers, students and parents celebrate jointly, coincides with Dr Seuss' birthday, that is Mar 02.
Many of Dr Seuss' books are translated in Chinese. Here are some available on Amazon.
*The following contains Amazon affiliate links.
Green Eggs and Ham 绿鸡蛋和火腿
Yertle the Turtle and Other Stories 乌龟耶尔特及其它故事
Hop on Pop在爸爸身上跳来跳去

Horton Hatches the Egg 霍顿孵蛋
If I Ran the Circus 如果我来经营马戏团

Oh,. The Thinks You Can Think! 你能有多少奇思妙想
I Can Read With My Eyes Shut! 我闭着眼睛都能读书

Horton Hears a Who!霍顿听见了呼呼的声音
The Foot Book千奇百怪的脚
Dr. Seuss's ABC苏斯博士的ABC
One Fish, Two Fish, Red Fish, Blue Fish一条鱼,两条鱼,红色的鱼,蓝色的鱼

Mr Brown Can Moo. Can You?布朗先生会学牛叫,你行吗

苏斯博士双语经典

This set has the following books
苏斯博士双语经典

This set has the following books: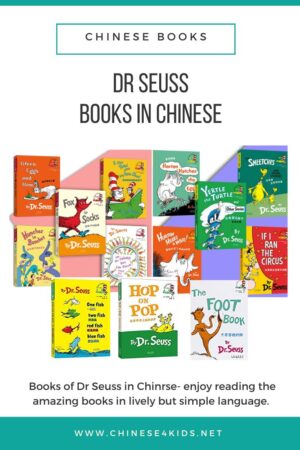 You May Also Be Interested: