太 is a common word in Chinese. It literally means "too"  or "so" in the sense of "excessively".  Usually 了 needs to be added after the adjective to make it sound natural in Chinese. This Chinese Vocabulary Study guide tai 太 features the basic grammatical rules on how to use the word with many useful examples.
Here are some rules of how it is used in Chinese.
Used to Exclaim How Good Something Is
The structure is
For Example
你太好了。
Nǐ tài hǎole
You are so nice.

这个女孩子太漂亮了。
Zhège nǚ háizi tài piàoliangle.
This girl is so pretty.

这道菜太好吃了。
Zhè dào cài tài hào chīle.
This dish is so delicious.

她的小猫太可爱了。
Tā de xiǎo māo tài kě'àile.
Her kitten is so cute.
Used to Express Something is Too Excessive
When used in this sense, the examples sound a bit like complaint. "Too" is the direct translation of "太" in this case.
The structure is the same
For Example
我吃得太多了。
Wǒ chī dé tài duōle.
I ate too much.

现在太晚了,我们明天再出去吧.
Xiànzài tài wǎnle, wǒmen míngtiān zài chūqù ba.
It is too late now. Let's go out tomorrow.

这双鞋我很喜欢,可惜太贵了。
Zhè shuāng xié wǒ hěn xǐhuān, kěxí tài guìle
I like this pair of shoes. It is pity they are too expensive.

爸爸太累了,已经睡觉了。
Bàba tài lèile, yǐjīng shuìjiàole.
Dad is too tired. He already went to bed.
"不太"
The word 不  is put in front of "太" to negate an adjective is the same as it is to negate a verb. When used before an Adjective, it means "not very" or "not so" (literally "not too"); when used before a verb, the translation can vary depending on the meaning.
Structure 1
For example,
我不太累。
Wǒ bù tài lèi.
I am not so tired.

你不太高兴吗?
Nǐ bù tài gāoxìng ma?
Are you not so happy?

她的学校不太远。
Tā de xuéxiào bù tài yuǎn.
Her school is not too far away.

我们现在不太忙。
Wǒmen xiànzài bù tài máng.
We are not too busy at the moment.
Structure 2
For example,
我不太懂。
Wǒ bù tài dǒng.
I don't quite understand.

我不太会说意大利语。
Wǒ bù tài huì shuō yìdàlì yǔ.
I cannot speak much Italian.

他不太喜欢这个城市。
Tā bù tài xǐhuān zhège chéngshì.
He does not like this city much.
我们不太想出去玩。
Wǒmen bù tài xiǎng chūqù wán.
We do not want to go out and play that much.
If you like this post, PIN IT!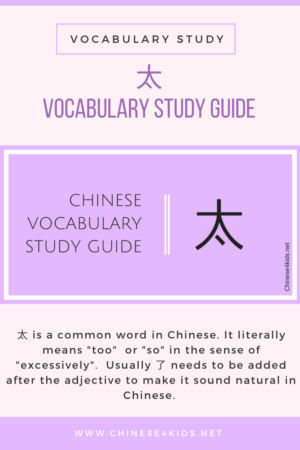 ---
You may find the guide in
You May Also Be Interested: