We've talked about Chinese radicals. One of them is 口,meaning "mouth" in Chinese. The Chinese characters with this component often have something to do with the mouth. Today let's have a look at another similar radical female 女.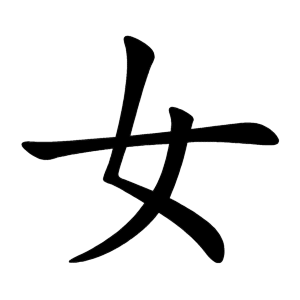 Source: Wikipedia
女 by itself is a word, meaning a female or daughter. 
女人  nǚ rén means woman.

女儿 nǚ'é means daughter.

Quite some Chinese characters with 女 radical have the meaning relevant to female or daughter. Let's have a look.
奶 nǎi
姥 lǎo
妈 mā
姐 jiě
妹 mèi
姑 gū
姨 yí
As you can see, all the above refer to the female figures at home.
奶奶 nǎi nai grandma (on the father's side)
姥姥 lǎo lao grandma (on the mother's side)
妈妈 mā mā Mom
姐姐 jiě jiě elder sister
妹妹 mèi mei younger sister
姑姑 /姑妈 gū gū /gū mā  aunt (on father's side)
姨妈 yí mā aunt (on mother's side)
See, pretty easy, right?
I want to mention one common Chinese character 好,good in Chinese.
If you look at the two components of 好,you can see two parts: 女 and 子. In Chinese, 女 means daughter and 子 means son. 好 in Chinese symbolizes a good wish that a daughter and a son make a perfect family.
If you like this post, PIN IT!