It is now the most exciting time for everybody – the school is starting, teachers, parents and kids are all getting ready for the new school year! Most of the time, a child receives a supply list from school and knows what to shop. Sometimes we need a little bit help especially for a subject which may or may not be taught in the school. Here you are, we have come up with a Back to School Mandarin Chinese Studies Supply List. Hopefully it is going to be useful for teachers, parents and kids!
For sure, a child needs pencils, erasers, binders, paper and other common stationery items. Here I will list some items which are not sepcific for Mandarin Chinese learning:
STATIONERY FOR MANDARIN CHINESE LEARNING
Chinese Character Practice Book – Tian Ge Ben Notebook

This Chinese character practice book is perfect for Chinese learners at any age to practice Mandarin Chinese character writing.
Erasable Pens

This pack of 10 0.5mm erasable pens can write, erase and rewite repeatedly. Fantastic for students to take notes and
Flash Cards with Binder Rings
These study cards are excellent for making flash cards for Mandarin Chinese vocabulary. The cards are small, perfect to carry around. The binder rings are easy to group and keep relevant cards together. It is easy to organize the cards by adding or removing cards.
Blank Kraft paper Business Cards Word Card
These cards have a nice weight and are plain white. One side is semi-glossy, the other side is uncoated. They are perfect for Chinese vocabulary study.
CLASSROOM | HOME SUPPLIES FOR MANDARIN CHINESE LEARNING
Calendar
Desk | Wall Calendar 2020-2021

We all need a good calendar. This Desk Calendar is large enough to be placed on an office desk, this calendar, with hole on the top, can be hung on a wall too. Each pages has MINI CALENDARS for all months.
Pocket Charts
Hundreds Pocket Chart with 100 Number Cards
This pocket chart is very useful for teaching children numbers in Chinese. The cards that fit into the each pockets are 2″X 2″ and there are a total of 100 clear plastic pockets. If we prepare cards of 2″X2″ size, we can also use the pocket to feature different Chinese character cards.
Daily Schedule Pocket Chart with 18 Dry-Eraser Cards

Daily Schedule Pocket Chart are ideal For office, classroom and home using. Display your daily schedule, store your files, spell word and so on. There are 13+1 Pockets, 13 Full size film pocket for regular schedule cards, 1 bottom tool pocket for cards not in use and stationery like markers, scissor etc. Save desktop space and being organized.
Standard Sized Classroom Pocket Chart – Fits Standard 3" Sentence Strips and Cards

This pocket chart has a size for classroom lessons and home use. Each pocket chart measures 44" tall by 34" wide to fit a full lessons worth of material. 3″sentence strips fit nicely in the pockets. It is great for Chinese sentence learning. This chart is made from durable polyester fabric to allow for repeated, long lasting use.
Dry Erase Items
Dry Erase Lapboard Classroom Set
The class pack includes 12 sturdy whiteboards, 12 low-odor, non-toxic black dry erase markers and 12 durable foam erasers 2 x 2 inches. They are great to be used to introduce a fun, paperless solution to the classroom/home with student size whiteboards. These sturdy class whiteboards are single-sided and ideal for teachers and parents guiding Chinese learning activities. The dry erase board is large enough to work whole problems but small enough for young children to easily handle.
Dry Erase Pockets

These durable pockets can be used to store letter sized paper with the ability to write on them with dray erase markers. As we educate our children about environment sustainability, we need to find ways to minimize paper waste. This pack of reusable dry erase packets are good for classroom organization and group class work. The 5 different colors (red, orange, green, yellow, blue) are useful for different groups or purposes, and the metal eyelets are perfect for hanging.
EXPO Low-Odor Dry Erase Markers
These dry erase markers are of high reputation. They are ideal for classrooms, offices and homes. They have fine tip for drawing thin, accurate lines and provide consistent, skip-free on whiteboards and most non-porous surfaces.
Wizard Wall Self Adhesive Dry Erase Roll System
Sometimes we wish to be able to write on any surface, for a quick note, to explain something and so on. This wizard wall self adhesive dray erase roll system makes it easy and conveniet to create a dray ease surface on any flat surface. Surfaces include wood, drywall, metal, plastic, brick, marble and more. It is perfect for home and school projects, reminders, coaching, chore charts, making lists, drawing, playing games and much more.
Printing Paper
100 Sheets-Blank Business Card Paper

When learning Chinese vocabulary, we need flash cards. We can create flash cards by hand writing; we can also print out flash cards with these blank business card paper. Each sheet is made of heavyweight paper that feels thick and sturdy, comes with dotted lines on all sides for simple cut and tear after your cards are printed and measures 8.5 x 11 inches.
Calligraphy Items
Wolf Hair Chinese Calligraphy Brush

When leaning Chinese, Chinese calligraphy is a fun and necessary activity. To practice Chinese calligraphy, we need good brushes, paper and ink. This set of brushes are made of wolf hair and wood handle. They are great for beginners to start Chinese calligraphy.
Chinese Calligraphy Black Ink

Excellent ink for Chinese calligraphy practice.
Chinese Calligraphy Brush Ink Writing Grid Sumi Paper
Teagas Chinese Calligraphy Paper, also called "Xuan paper"or "rice paper",  is produced by traditional handicraft process, made from high quality bamboo. Specially offered for Chinese brush ink writing and Japanese or Kanji sumi writing. When writing Chinese Calligraphy, this Xuan Paper has a nice ability of ink diffusion. Standard Size grid. You can practice small characters in the small grids with Chinese brushes or big characters in the big grids(made up of 4 small grids).
Laminator and Paper Cutter
Scotch PRO Thermal Laminator

If you are an educator, you know how useful a laminator is. We can use any laminated materials repeatedly and we can write on them with a dry ease pen many times.
Scotch Thermal Laminating Pouches

These are great for signs, schedules, certificates, kids artwork, and more.
Paper Trimmer/Cutter

For this one, I don't need to emphasize its importance and usefulness.
If you like this post, PIN IT!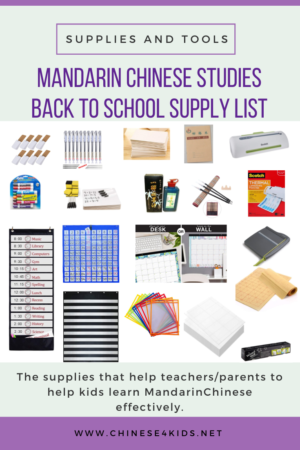 You May Also Be Interested: