We use Smiley Emoji in our conversations all the time. Do you know about their meanings? If yes, do you know the meaning of these commonly used smiley emojis in Chinese?
Let's have a look!
Grin
开心
Kāixīn
Laughing with tears
笑到哭
Xiào dào kū
Yum yum
口水流下来了
Kǒushuǐ liú xiàláile
Cool
酷毙了
Kù bìle
Love, love, love
爱,爱,爱死了
Ài, ài, ài sǐle
Blow a kiss
飞吻
Fēiwěn
Hug
抱抱
Bào bào
Angry
生气
Shēngqì
Scream in fear
害怕到尖叫
Hàipà dào jiān jiào
Fearful
怕怕
Pà pà
Crying, hurt and upset
哭泣,受伤难过
Kūqì, shòushāng nánguò
Crying loudly
大哭
Dà kū
Frowning
皱眉头
Zhòuméi tóu
Confused and puzzled
迷惑不解
Míhuò bù jiě
Wacky, joking
鬼脸,淘气,开玩笑
Guǐliǎn, táoqì, kāiwánxiào
Sleeping
睡着了
Shuìzhele
Sleepy
困了,要睡了
Kùnle, yào shuìle
My lips are sealed
守口如瓶
Shǒukǒurúpíng
If I want to use an smiley emoji to show "so delicious"in Chinese, which emoji should I use? If I want to show my love to somebody or something, which one should I use? Well, you must have got the idea: smiley emojis have universal meanings, and you can use a smiley emoji to express yourself instead of typing up a line of words. How great it is, right?
Do you like this article? Pin it!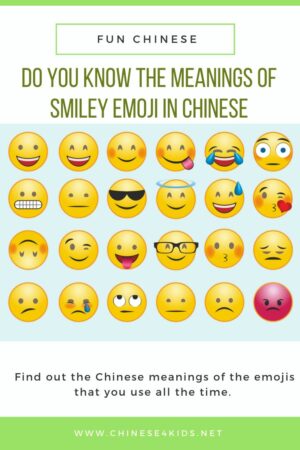 You can purchase Smiley Emoji Chinese Learning Pack at our eBook store.
You May Also Be Interested: