Chinese characters with the same radical many times have something in common. Chinese characters containing "口" (mouth) are often grouped together in the "口" section in Chinese dictionaries and usually involves "mouth".





What is a radical?
A Chinese radical is so called 部首 bùshǒu, literally meaning, "section header". It is sometimes translated as an indexing component.
It is "often a semantic indicator similar to a morpheme, though sometimes it may be a phonetic component or even an artificially extracted portion of the character. "(Wikipedia )
According to Kangxi Dictionary, there are 214 radicals.
(source: Wikipedia)
Chinese Characters with Radical Mouth 口
口 is a basic character by itself. It means mouth and it looks like an opening mouth.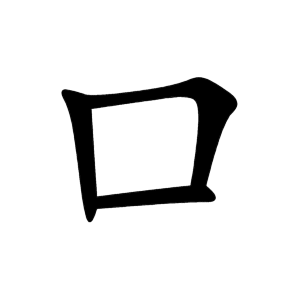 (source: wikipedia)
There are over 1000 Chinese characters with the radical mouth. Here I'm going to focus on some commonly used ones. All of these are related with its meaning, the mouth.
嘴 zuǐ mouth
吃 chī to eat
喝 hē to drink
叫 jiào to shout
喊 hǎn to call,to yell
唱 chàng to sing
吵 chǎo noisy
吹 chuī to blow
呼 hū to exhale
吸 xī to inhale
吻 wěn to kiss
吞 tūn to swallow
If you like this post, PIN IT!