In Chinese, there are many 2-character words that turn into different words with the 2 characters reversed. For example, 奶牛 and 牛奶 are two words with the same two characters: 牛and 奶. The first emphasizes on the 牛 and the latter on the 奶. That is, 奶牛 means cow and 牛奶 means mild from a cow.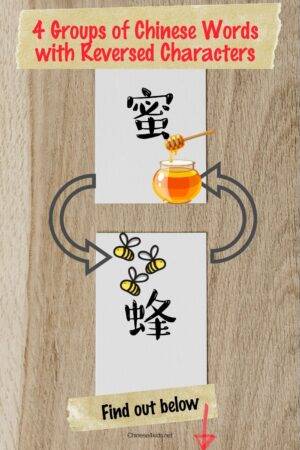 We can organize this type of words into four groups.
Group 1:
The words have the same meanings when the two characters are reversed
For example,
讲演 jiǎng yǎn -演讲 yǎn jiǎng: speech, lecture
觉察jué chá-察觉 chá jué: be aware of
喜欢 xǐ huān -欢喜 huān xǐ: like, be fond of
和平 hé píng--平和 píng hé: peace
Group 2:
The characters with relevant meanings form words that still have similar or relevant meanings when the characters are reversed
For example,
积累 jī lěi -累积 lěi jī accumulate
夜半 yè bàn-半夜 bàn yè midnight
胆大 dǎn dà-大胆 dà dǎn bold
画笔 huà bǐ painting brushes -笔画 bǐ huà stroke
蜂蜜 fēng mì honey -蜜蜂 mì fēng bee
牛奶 niú nǎi milk -奶牛 nǎi niú cow
雪白 xuě bái snowy white -白雪 bái xuě white snow
井水 jǐng shuǐ water from a well -水井 shuǐ jǐng well
Group 3:
Some of the words composed of 2 characters have totally different meanings when the characters are reversed
For example,
生产 shēng chǎn production – 产生 chǎn shēng to produce, to generate
现实 xiàn shí reality – 实现 shí xiàn to realize
人名 rén míng name – 名人 míng réncelebrity
上马 shàng mǎ mount a horse – 马上 mǎ shàng right away
海上 hǎi shàng at sea – 上海 shàng hǎi Shanghai
故事 gù shì story – 事故 shì gù accident
子女 zǐ nǚ children – 女子 nǚ zǐ woman
科学 kē xué science – 学科 xué kē subject
天上 tiān shàng in the sky – 上天 tiān shàng heaven, God
明天 míng tiān tomorrow – 天明 tiān míng dawn
Group 4:
Some 2-character words are the names of certain things. If you reverse the characters, the newly formed words actually show the use of the things
For example,
羊圈 yáng juàn sheep pen, sheepfold – 圈羊 quān yáng to fence sheep
门锁 mén suǒ door lock – 锁门 suǒ mén to lock the door
风扇 fēng shàn fan – 扇风 shān fēng to fan some wind
鱼网 yú wǎng fish net – 网鱼 wǎng yú to net fish
牙刷 yá shuā toothbrush – 刷牙 shuā yá to brush teeth
Look, with a small number of characters, we can actually double the number of words when we reverse the characters.
This also shows that Chinese vocabulary is very expandable: Even a small number of Chinese characters can form a much more bigger number of Chinese words. That's the beauty of Chinese language as long as we make connections among characters.
Learning the basic Chinese characters and expanding into words is a great way of learning and growing Chinese vocabulary. Check out our Chinese Vocabulary Made Easy Course to discover how to do it.
If you like this post, PIN IT!