There are many occasions we celebrate Chinese culture and traditions. Chinese new year, also called Spring Festival, is a great chance. International Day is another great event. China study is for sure the 3rd opportunity to embrace Chinese culture and traditions to our children's lives. However, it is not always easy to find the Chinese elements for decoration, for celebration, for activities and for further reading.
Having been asked many times, I finally put pieces of information together and compiled a list of supplies. They are categorized into Decoration, Activities and Celebration. I also linked the Top 7 Books for Chinese New Year.
DECORATION
Chinese New Year Party – Red Paper Lantern
This sophistic looking lantern can really add some festive atmosphere to the surroundings.
Putting paper-cut onto windows is a tradition to celebrate Chinese new year. Traditional Chinese paper-cuts are pieces of art which are not only good for the celebration but also great for Chinese culture introduction.
There are 6 lanterns in this set. All of them can be folded, which makes it good to be used again and again.
Decorative Chinese Designs Stained Glass Coloring Book
This cool book features translucent paper on which you or your child can color with sharpies, markers or pens. The finished ones are beautiful against the light, giving a stained glass appearance. It is great to hand them on the window. It is something children and adults enjoy doing together.
Chinese Spring Festival Value Gift Set for 2016 The Year of Monkey
There are 31 pieces in this set:  1 set Large Couplets(135cm Lx20cm W);6 x Large Red Envelopes(18cmx9cm);6 x Small Red Envelopes(11.5cmx8cm);1 x 3D Fu Character(34x34cm); 4 x Velvet Fu Characters(34cm); 10 x PVC Paper Cuts(28cm); 1Pair 3D Doorways Monkey Decor(31cmx19cm); 1 x Gift Bag. If you get this set, you don't need to worry about decoration.
ACTIVITIES
Red Chinese Macrame Cord Thread Nylon Beading Cord 150m
Have you heard of 中国结(Chinese knot)? A Chinese knot is a knot that is tied and woven from a single length of cord. It can be a variety of shapes with varying complexity. Chinese good luck knot is a nice activities for children, esp, girls to explore Chinese culture and enjoy the craftwork at the same time. To learn how to make a Chinese Good Luck Knot, watch this tutorial.
With chopsticks, you can arrange so many activities: picking up candies competition; timed picking up glass beads contest; making paper dragon handles…These chopsticks are very useful.
Creative Haven Chinese Designs Coloring Book
To stimulate children's artistic taste towards Chinese designs, this is a good book. 30 wonderful pages of dragons, cranes, phoenixes, flowers and more are featured.
CELEBRATION
Chinese New Year Dessert Party Set Includes Plates, Napkins, Cups, and Cutlery
Chinese people LOVE food. Whenever they get together, they always enjoy food as well as chats. If you plan a Chinese party, this party set can help you get the table setting just right.

You need red envelopes to celebrate Chinese new year. In China, it is the happiest time for children when they receive red envelopes which contain LUCKY money from relatives and family. I always like to give out red envelopes with some fortune coin (or chocolate coins) to students and all the children who come to our house. It is always a highlight of the day!
These inexpensive coins are perfect to be given out in the red envelopes. Compared to chocolate coins, they are more Chinese and can be kept as an artifacts.
BOOKS
These 7 books are great to introduce Chinese New Year to children. Have fun reading them together with your children.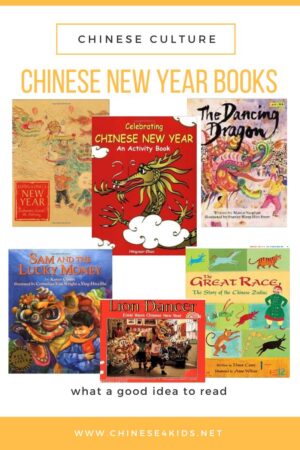 You May Also Be Interested:
If you like it, share it